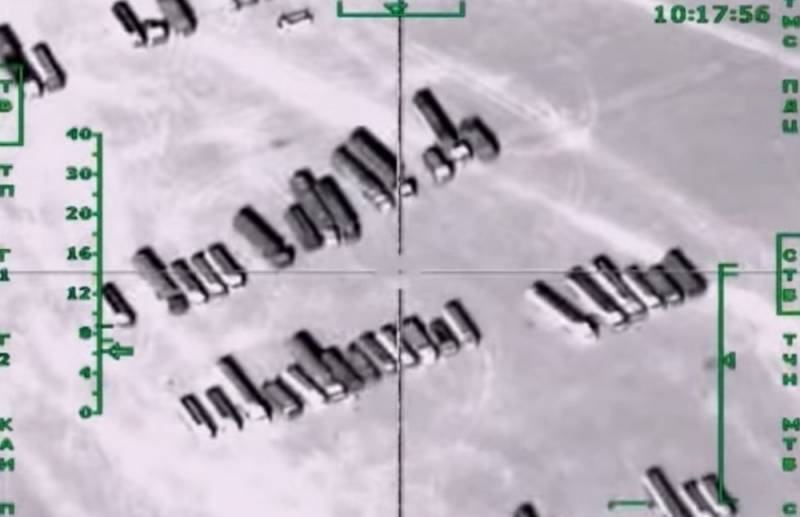 In Syria, it is restless again: the Israeli Air Force is still unlimited in the airspace of a sovereign state, terrorist groups that have not been killed have raised their heads again, and now some "unidentified planes" are in the habit of bombing Turkish business partners, preventing them from smuggling Syrian oil. Other sources are not talking about planes, but about an attack UAV. But the Turkish media for some reason persistently nod towards Russia. To what extent can such suspicions in our direction be justified?
Arab
news
AMN News says the following about this:
Oil smuggling sites for Turkish-backed militants saw a series of strikes on January 9, when unidentified drones, believed to be Russian, attacked targets in the northeastern countryside of Aleppo province.
He is echoed by the Turkish edition of Haber7, claiming actions in the airspace of Iraq and Syria, either a large drone or a fighter jet. But why did our friends and partners suddenly see a "Russian trace" in these attacks?
As far as it is known from open sources, the Russian Aerospace Forces did indeed inflict airstrikes on a convoy of gasoline tankers that transported smuggled oil from Syria to Turkey. This was shortly after a Turkish fighter jet shot down a Russian Su-24 bomber in flight, killing its pilot, and then another of ours who participated in the rescue operation. Then, as part of the column, the militants and the Turks accompanying it were destroyed. It is believed that this was an informal response from Moscow to Ankara. Today the Kremlin also has something to present to the Turks for their activity in the South Caucasus, but there is one important nuance.
Big attack drone? The three strongest bombing raids? Destroyed a number of important objects as a result of airstrikes? Excuse me, but are there any shock UAVs capable of carrying out such operations in service with the Russian Aerospace Forces today? The promising "Hunter" should begin to enter the troops only in 2024. Somehow it does not fit. And if it was still a fighter, then why a Russian one? The Syrians, Israelis and Americans have them too. By the way, would the Russian Aerospace Forces act so brazenly in the airspace of Iraqi Kurdistan? Doesn't add up. There is a much more suitable candidate.
Recall that the United States under Donald Trump laid its hands on Syrian oil located in the province of Deir ez-Zor. They imposed it so thoroughly that they did not hesitate to smear a detachment of our "Wagnerians" going to liberate the refinery and oil fields on the sands, using AC-130 fire support aircraft, B-52H bombers, F-15E heavy fighter-bombers, MQ-9 UAVs, helicopters AN-64 and even MLRS HIMARS. Everything was done extremely cruelly in order to show who now owns the "black gold". The Americans allegedly guard it from terrorists from the ISIS group banned in Russia, but in fact they simply plunder the property of the Syrian people, exporting oil by fuel trucks to neighboring Iraq, where it is sold without paying taxes. As you know, money does not smell, and tens of millions of dollars in cash will never be superfluous. Some penny, perhaps, falls to the allied Kurds, but exactly what a penny.
And then it turns out that the Turks have organized a joint business with their sworn enemies, the Kurds, to smuggle oil through Iraqi Kurdistan to Turkey. Money doesn't smell, we remember that. But where is the American interest then, one wonders? This is not forgiven. Therefore, there is no need to speculate about the belonging of the "big drone" or "mysterious fighter" that is so calmly circling in the Iraqi and Syrian skies and inflicting airstrikes.