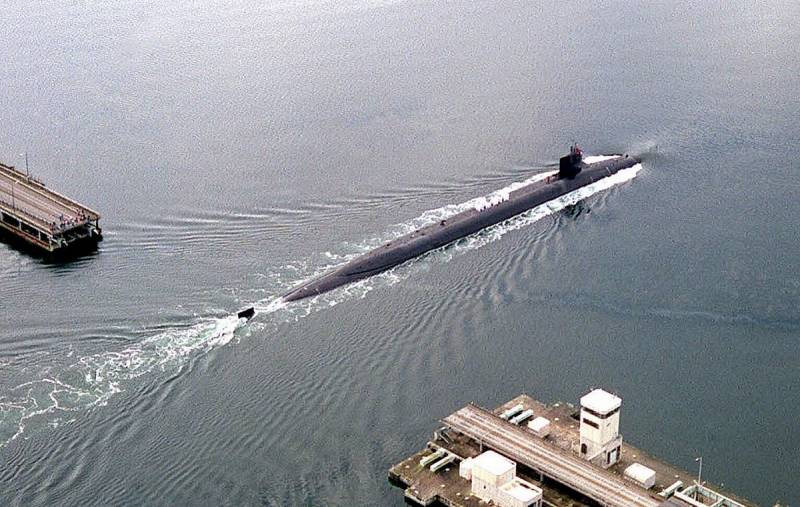 Video footage of one of the most powerful American submarines with Ohio-class guided missiles, which is on watch in the Persian Gulf, is circulating on social media, filmed from an Iranian helicopter. The video shows the USS Georgia submarine moving at periscope depth, which, after being discovered by the Iranians, left the area of ​​operations. The Drive writes about the maneuvers of American combat submarines and surface ships off the Iranian coast.
According to the Iranian Navy, the American submarine was operating near the site of Tehran's naval exercises Ektedar (Power).
The video suggests that the size and shape of the submarine matches the specifications of Ohio-class submarines - four of these submarines have been converted into guided missile submarines, including the USS Georgia, although some Virginia-class submarines are equipped with them. These multipurpose submarines are by far one of the most powerful and sought-after submarines in the US Navy.
Not surprisingly, the Ohio-class submarine USS Georgia is monitoring the Iranian exercise Ecthedar. When it comes to submarines of this type, the main focus is on their ability to carry on board up to 154 Tomahawk cruise missiles for strikes against ground targets, as well as the ability to transfer special operations forces. Typically such a boat is equipped with 100 Tomahawks, and empty missile hulls and various spaces within the boat are filled with other highly specialized equipment, including unmanned vehicles and necessary systems for underwater launches. The rest of the submarines are equipped to work as hidden submarine reconnaissance and command centers.