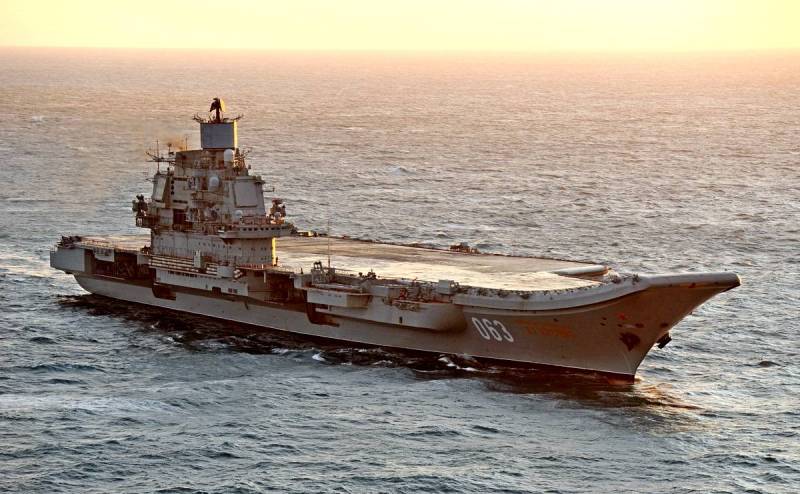 Repair of the Russian aircraft carrier "Admiral Kuznetsov" has practically stopped in recent months, writes The Drive magazine. At the same time, according to Russian media reports, the two new landing ships under construction for the Russian Navy will be even larger than previously assumed. Ultimately, these new vessels will become a much more flexible, affordable and useful alternative to the Admiral Kuznetsov.
At the end of 2016, the aircraft carrier took part in its only combat operation in the Eastern Mediterranean, during which the MiG-29 and Su-33 on board were lost due to accidents. In 2017, the ship arrived at the shipyard in Murmansk for refitting. But the work is progressing extremely slowly. In October 2018, a floating drydock containing the ship sank, causing a crane to crash into the deck of the ship and cause significant damage. In December 2019, there was a serious fire aboard the aircraft carrier.
According to a source cited by TASS, the ship must return to sea to undergo relevant tests in 2022. However, there is no official data on the completion of work on the "Admiral Kuznetsov". Meanwhile, the displacement of the new Project 23900 landing ships will be about 44 tons. For comparison: the standard displacement of the "Admiral Kuznetsov" is about 000 tons.
Under the leadership of Russian President Vladimir Putin, two universal amphibious assault ships of a new design with a displacement of 40 tons each were laid
- noted the Deputy Minister of Defense of Russia Alexey Krivoruchko.
Another reason why the Russian Federation should abandon the "damned" aircraft carrier in favor of two modern amphibious assault ships is the too limited ability to take off from its deck of combat aircraft. Without a launch catapult, aircraft can operate on board the Admiral Kuznetsov only with a reduced payload.
In addition, the use of only one aircraft carrier significantly reduces the capabilities of naval aviation in real combat.
Ultimately, the new landing ships are potentially much more functional than the Admiral Kuznetsov. It is expected that the 23900 project will include six landing craft to transport about 75 armored vehicles, 900 military personnel and auxiliary equipment. The ships will also be able to function as hospital ships or flagships for coastal combat operations. After certain modifications or with a dedicated aviation group on board, these combat ships can also carry out anti-submarine or mine action. In addition, amphibious assault ships always demonstrate their usefulness in non-combat scenarios, including the provision of humanitarian assistance.