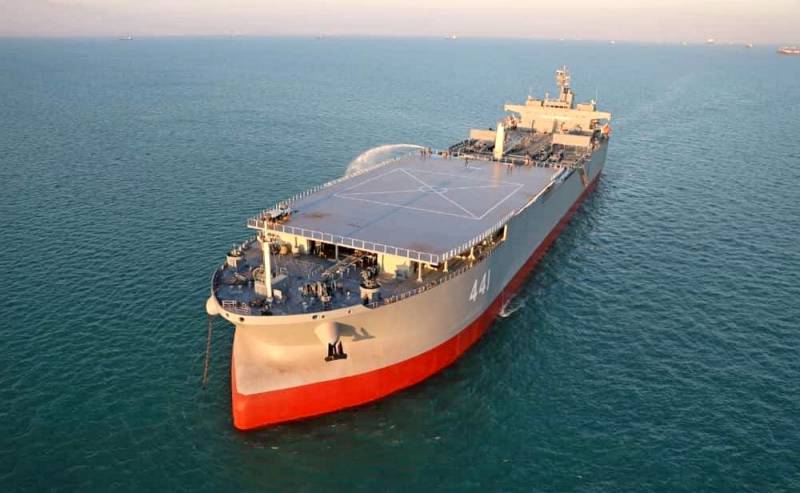 Tehran has commissioned one of its most unusual warships - the rebuilt from a tanker the military aircraft carrier "Makran" (the name of the area in eastern Iran), which has become the largest in the history of the Iranian navy. It may carry unmanned aerial vehicles, helicopters and other military
technique
... IRNA correspondents write about the new Iranian aircraft carrier, referring to the press service of the country's Navy.
The floating base introduced into the Iranian naval forces has a length of 230 meters. The deck of the ship has sufficient space for the basing of drones, helicopters (up to six rotary-wing vehicles), combat high-speed boats and special forces. The main purpose of "Makran" is to support the operations of the Iranian navy in the distant sea, including the northern Indian Ocean, the Red Sea and the Bab al-Mandeb Strait.
In addition, the Iranian authorities presented the Zerekh (Bronya) missile corvette, which also entered the disposal of the country's naval forces. Both ships are to take part in short-lived Ecthedar missile maneuvers in the Gulf of Oman. Both "Makran" and "Zerekh" have previously passed the necessary sea trials both near and at the distant sea approaches to the Iranian coast.
The commander of the Iranian naval forces, Rear Admiral Hosseina Khanzadi, noted that other warships of such classes will soon be adopted by the Iranian Navy.