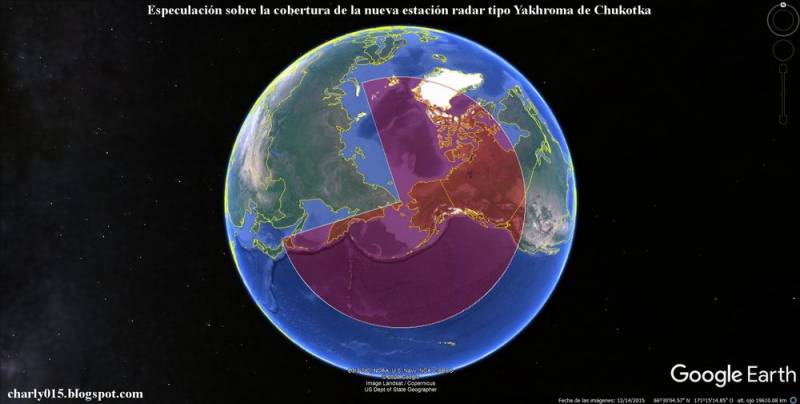 The information about the upcoming start of construction in Chukotka of the newest Russian radar "Yakhroma" of the ground echelon of the early warning system was met with interest in the West. Some compared its appearance with an "elephant in a china shop" and even predicted the range of the radar station, explaining the advisability of building an object in a given area.
Western web users noted that Russia, huge in its area, now does not have a similar radar station in this direction, warning of a possible US ICBM strike. Therefore, they are not surprised that the Russians have decided to "close the hole."
At the same time, they calculated that the Yakhroma radar station would be able to cover half of Canada and reach the state of California in the USA with its sensitive devices. In addition, it will be able to monitor an unimaginably gigantic space, backing up other early warning radars. She will "see" from the Spitsbergen archipelago and Greenland to the largest Japanese island of Honshu and the entire North Pacific Ocean.
Note that in December 2020, Russian Defense Minister Sergei Shoigu announced the start of work on the construction of the Yakhroma radar station in Sevastopol in 2021. Earlier, in 2019, the newspaper
"News"
reported that according to the Russian military, it is planned to deploy the Voronezh radar station on the territory of the Nakhimovsky district of Sevastopol, so that "the folds of the terrain do not interfere with its work."
In January 2021, a source from the Russian defense industry told the agency
TASS
that this year construction of the Yakhroma radar station will begin in the Chukchi Sea region. Its construction is planned to be completed by 2030. It will become completely autonomous and will be able to work for a long time without the constant presence of personnel.
The interlocutor specified that the Yakhroma radar station has no analogues in the world. She will be able to work in four ranges (meter, centimeter, decimeter and millimeter). Its view will be 270 degrees.
We remind you that the early warning system of Russia consists of two echelons: space (orbital constellation of satellites) and ground (a network of seven operating Voronezh-type radars and two under construction). The system's tasks are to detect, warn and escort ballistic missiles launched across the territory of Russia and its allies.