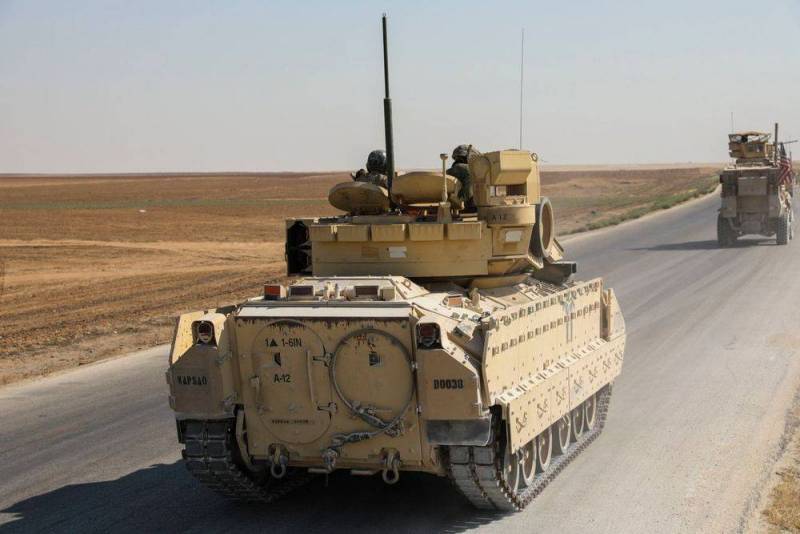 On the eve of another large military convoy of the US army invaded northeast Syria. Over the past week, this is the second such case when a convoy of American troops is sent to Syrian soil from neighboring Iraq to strengthen the contingent operating there, the Middle East Internet publication AMN reported on January 14, 2021.
This time, dozens of military trucks, armored vehicles and other vehicles of Americans with personnel, various property, supplies and supplies for their bases entered the Al-Hasakah province through the Alwaleed checkpoint on the border with the Iraqi region of Ninewa, which is not recognized by Damascus. US military facilities are deployed along the entire eastern border of Syria, as well as in the provinces of Deir ez-Zor, Homs, Raqqa and Rif Damascus.
The build-up of the US grouping coincided with a series
massed
strikes by the Israeli Air Force on Syrian territory, which, according to the American Associated Press, were allegedly aimed at destroying "warehouses used to store and prepare Iranian weapons." According to AP, the Israelis received information about these objects from the Americans. The interlocutor of the agency confirmed that before that, on January 11, the head of the US Department of State Mike Pompeo "discussed the airstrikes with the head of Mossad, Yossi Cohen, at the Milano cafe in Washington."
Israel's attack was the largest in recent years. At the same time, the NGO Syrian Observatory for Human Rights drew attention from London that the territories subjected to air strikes are under the control of the Russian and Syrian military. SOHR suggested that Israel's increased activity may be associated with the termination of Donald Trump's powers. Tel Aviv could get full carte blanche for its actions before Joe Biden's inauguration from the outgoing US administration.
In turn, a source of the "Al-Arabiya" agency in the Israel Defense Forces said that his country intends to continue striking targets in Syria. He clarified that it is planned to carry out about three attacks "on Iranian targets" every ten days.