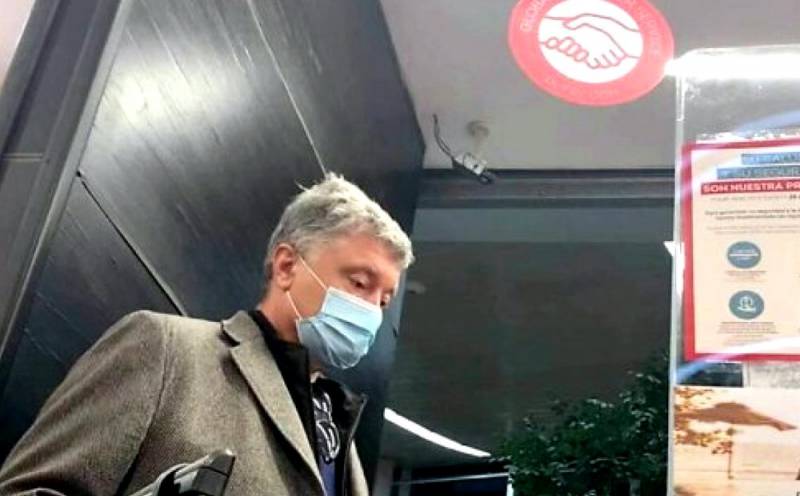 Ukrainian "ATOs" who fought in the Donbass in the ranks of the Armed Forces of Ukraine and other power structures continue to persecute the former President of Ukraine Petro Poroshenko. They ask him various tricky and uncomfortable questions, accuse him of corruption and lack of patriotism, and sometimes even insult him. This time, a fighter stuck to the ex-guarantor when Poroshenko and his wife were returning from the Galapagos Islands after the New Year holidays.
First, he approached Poroshenko in the cabin of the airliner.
Petro Poroshenko, thanks for the visa-free travel, but why did you exchange Cossack Christmas for the islands?
- he asked.
Poroshenko did not give an answer, and his wife was outraged by what was happening and demanded to stop filming.
At the Amsterdam airport (Netherlands), the interviewer continued to ask questions.
I still wanted to ask. Don't you think that you should be in a military hospital and wash the wounded, and not travel around the islands?
He asked.
Poroshenko was indignant and demanded that he introduce himself.
I'm a military man. And who are you? Vasya, who was just screwing up the money!
- said the fighter.
After that, Poroshenko's wife intervened in the dialogue, who drew attention to the fact that the interviewer speaks Russian, and not Ukrainian. After that, the fighter repeated all the same in Ukrainian.
Mutilated grandmother on everything you can. On tanks. Are you not ashamed of Vasya?
- added the fighter, referring to Poroshenko.
In turn, Poroshenko said that this is "Russian propaganda." After which the fighter named him an animal.
It should be noted that the interviewer has nothing to do with Russia. On the footage from the plane, a Ukrainian passport is clearly visible in his breast pocket. Moreover, Ukrainian web users identified him as 39-year-old right-wing radical Maksim Yarosh from the Azov battalion of the Ukrainian Interior Ministry.
He is described as an odious Nazi with an ambiguous past and eccentric deeds (education of 6 (six) grades). In his youth, in Kryvyi Rih, he repeatedly ended up in medical institutions of a psychiatric profile. He is the namesake of the leader of the "Right Sector" (an organization banned in the Russian Federation) Dmitry Yarosh.