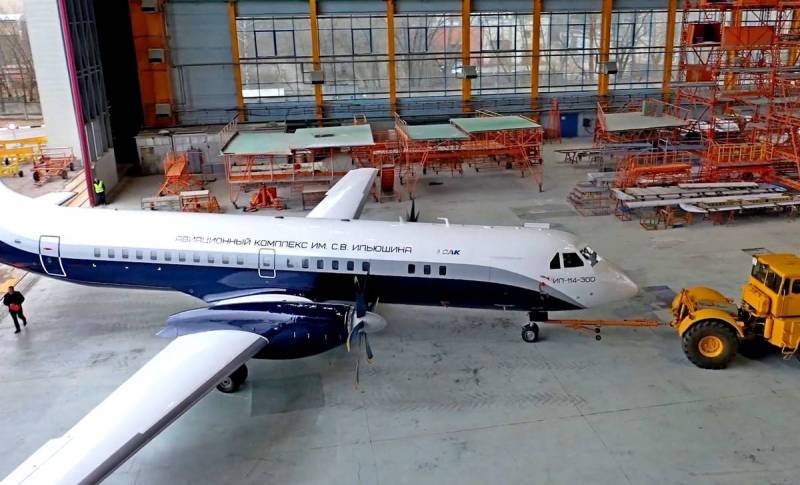 By the end of 2020, one of the most important projects of civil aviation in Russia entered a decisive phase. On December 16, 2020, the IL-114-300 prototype made its first flight at Zhukovsky airport near Moscow. The aircraft with test identifier 54114 begins flight tests, which should be completed no later than 2023, after which serial production of the liner will begin. Experts of the German edition Flug Revue write about the success of the new Russian aircraft.
The new Il-90-114 differs from the model of the 300s of the last century, which did not go into series, mainly technically. For example, completely digital state-of-the-art avionics TsPNK-114M2 from KRET is implemented in it.
Il-114-300 is equipped with two turboprop engines TV7-117ST-01 developed by JSC "ODK-Klimov", each of which has a takeoff power of 3100 hp. Combined with a six-blade propeller made of composite materials by Aerosila, the new IL-114-300 engine should not only provide outstanding performance and noise level, but also keep fuel consumption at a lower level compared to Western counterparts.
The aircraft cabin has a capacity of 52, 60 or 68 seats. The interior design must fully comply with modern comfort requirements. The air conditioner, fire protection system and pressure control device are made in Russia, high-quality sound and heat insulation guarantees the most comfortable journey without noise and vibration.
Il-114-300 is a very promising project for the Russian Federation. It aims to make the country more independent from Western products and at the same time represents the long-awaited replacement of the obsolete Soviet-era turboprop airliners that are still used in large quantities on domestic flights.
Russian Industry and Trade Minister Denis Manturov believes that by 2030 Russia will need about 100 such aircraft - primarily for the domestic market, but also for export. Thus, the second generation of the Il-114 has a great chance of success, especially in light of the imminent end of the service life of many aircraft models in both the civil and military sectors of the Russian Federation.