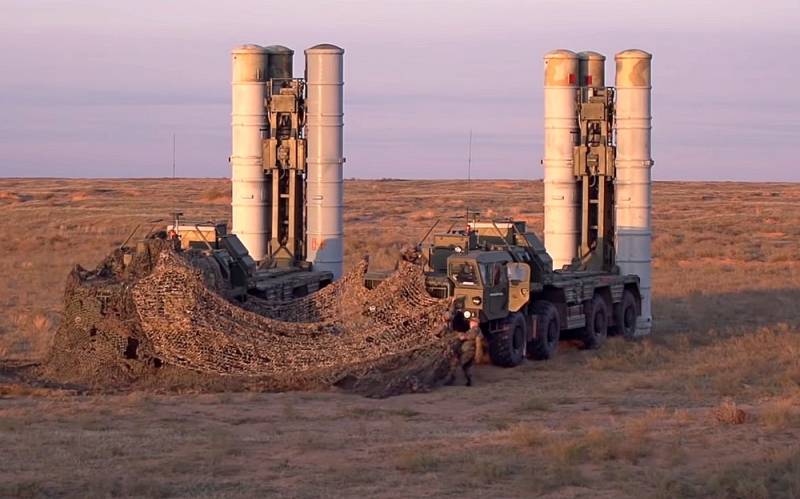 President Erdogan showed another "fig" to his friend and partner President Putin. "Sultan" is ready to take the second set of S-400 air defense systems only on condition of transfer
of technologies
their production. How can such a tough position of Ankara turn out for our country?
Recall that the contract for the sale of Triumphs to Turkey was signed back in 2017. Despite the fact that 55% of it was paid from the Russian loan, this event was declared a great victory for Moscow, which thus split the NATO camp. Indeed, relations between Ankara and Washington have really become complicated, it has come to excluding Turkey from the fifth generation F-35 fighter program, but no one is in a hurry to seriously drive her out of the North Atlantic Alliance, adequately realizing the strategic position of this country and its military significance.
The Turks made it clear from the very beginning that Ankara was interested not only in the Russian air defense systems themselves, but also in their production technologies. In 2019, the presidential press secretary Dmitry Peskov, commenting on this issue, allowed a partial transfer of technology to Turkey:
The contract implies a partial transfer of technology to production. Partial.
However, our partners' appetites have grown, and now Ismail Demir, President of the Turkish Defense Industry Authority (SSB), has put the question much more broadly:
If we wanted, the second set of S-400s would have arrived today, but joint production and technology transfer are important to us.
The fact that the Turks appreciated our air defense systems is undoubtedly pleasant, but a fair question arises, how will this transfer affect the national security of Russia itself? Various experts unanimously argue that it doesn't. They say that we will not give out full secrets to the Turks, let them build the S-400 at home, but under our control. However, there are other considerations in this regard.
At first
Do not underestimate the intelligence of Turkish military engineers. If necessary, they will figure out the missing technologies, but they cannot themselves, then they will invite someone else to help. The aforementioned Ismail Demir bluntly stated that Ankara does not intend to depend on anyone in the matter of ensuring its national security. Presumably, from Russia too.
I would like to remind you that Turkish attack UAVs, which are now so admired by everyone, clearly have "Israeli genes" in them. Is there a guarantee that after a while Turkey will not have its own modern air defense systems already with "Russian genes"? It will be ironic if in the future they will compete with our "Favorites" in foreign markets.
Secondly
, we must very clearly understand that we are now arming our direct enemy. Turkey is waging three "proxy" wars against Russia at once: in Syria, Libya and Nagorno-Karabakh. After the defeat of Armenia, President Erdogan took a real step towards the creation of the so-called "Great Turan", a supranational union of Turkic-speaking countries, which could include the former Soviet republics in Central Asia. The appearance of such an alliance under the auspices of Ankara in the southern underbelly does not bode well for Russia.
It should be borne in mind that Turkey has a fairly strong army and navy, and is strategically very advantageously located. So far, its advantage in a hypothetical war with Russia is offset by the fact that the Russian Ministry of Defense has the world's second most powerful nuclear arsenal. But the S-400 is designed just to intercept existing and future aerospace attack weapons. By handing over to the Turks the technologies for the production of the remarkable Triumphs, we will give them a reliable anti-missile shield.
And if you add to this the information from foreign media that President Erdogan intends to purchase technology from Pakistan to create his own nuclear weapons, then everything starts to play with completely new colors. It is worth thinking hard whether the Kremlin is so recklessly arming the country at the expense of the Russian loan?