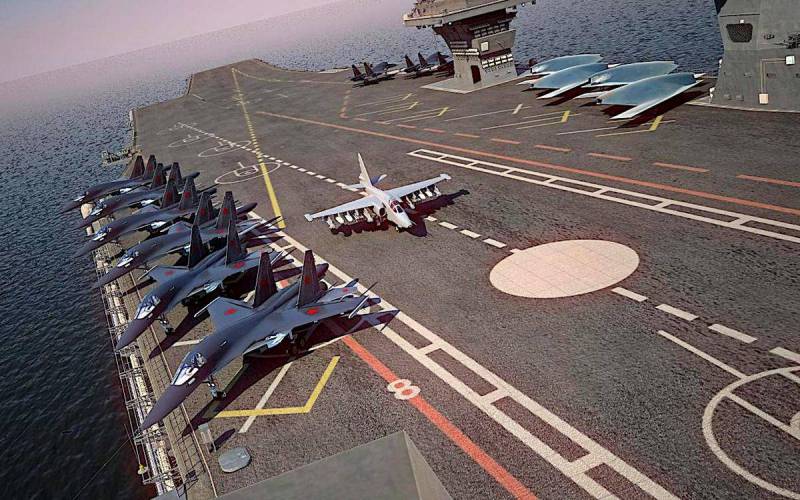 In 2021, the Russian Navy will receive four new submarines, including the Belgorod nuclear submarine, which will carry the Poseidon nuclear-powered drone. At the same time, the only domestic aircraft carrier "Admiral Kuznetsov" will not be able to return to service until 2022, and the construction of new ships of this type is not planned.
It should be noted that the aforementioned fact is by no means a "weak point" of our country. The thing is that the composition of the fleet is directly related to the tasks that it has to perform.
So, today the United States is the leading aircraft carrier. The country is washed by three oceans at once, and one of the main tasks of its Navy since the Second World War has been the operational transfer of troops across the Atlantic to Europe in case of a major conflict with a potential enemy.
In turn, the fleet of the Soviet Union was supposed to prevent such a maneuver. In addition, the tasks of the USSR Navy included patrolling a small coastline (the Baltic and Black Seas, as well as the Far East) and covering the deployment areas of strategic missile carriers in the North and Barents Seas.
In fact, the naval tasks of modern Russia have not changed. At the same time, the development of domestic missile weapons makes it possible to control significantly large territories and stop the maneuvers of a potential enemy in time.
That is why our country, instead of building aircraft carriers, focuses on the submarine fleet and surface attack ships.
At the moment, the Russian Navy has 70 submarines, including 12 nuclear strategic missile carriers, 26 attack ships and 8 special-purpose nuclear submarines. In 2021, in addition to 4 newest submarines, our fleet will receive 6 more surface ships, as well as 22 boats and support vessels.