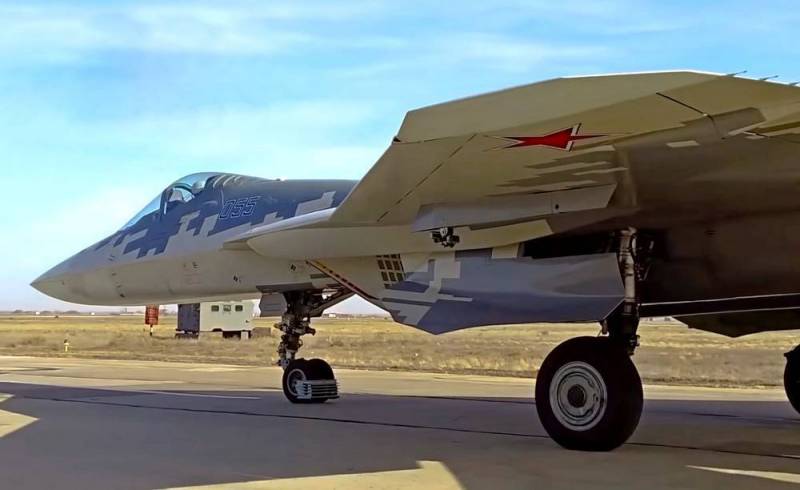 The fifth-generation fighter Su-57 recently entered service with the Russian Aerospace Forces and has already received its first job, writes the American edition of Military Watch.
In December 2020, the first serial Su-57
was transferred
the Russian military. Now the plane is serving in one of the air regiments of the Southern Military District. He became a tester of hypersonic weapons, or rather, prototypes of reduced ammunition for the Kh-47M2 "Dagger" aircraft missile system.
The Russian Aerospace Forces now has one such aircraft. It is expected that significant numbers of the Su-57 will begin to enter the troops after 2027. During this time, the aircraft will go through a number of ambitious improvements. For example, in 2022 it should begin to install engines of the second stage "Saturn 30", which will be 30% more powerful than the existing AL-41F1.
The main goal of the only Su-57 so far remains to familiarize pilots, technical personnel and other specialists with the operation of fifth-generation aircraft, their
technology
and armament before mass deployment. Probably by the end of 2027, the Su-57 will acquire sixth generation technologies, such as full-fledged artificial intelligence, unmanned flight and, possibly, the use of directed energy weapons. This will allow the Russian aircraft to compete with Western counterparts that are currently being developed.
The Su-57 will become the world's first fifth-generation fighter (second after the MiG-31 interceptor) to be armed with hypersonic missiles. The MiG-31 is equipped with the Kh-47M2 Dagger, while the Su-57 will have its smaller version.
The new missile can hit targets at Mach 10 and fly at ranges of up to 2000 km, while maintaining very high maneuverability, which makes it extremely difficult to intercept. It is effective against both ground and sea targets, making it a valuable asset for quick strikes against critical targets such as airfields, air defense systems, aircraft carriers and their escorts.
In addition, the Su-57 uses R-37M hypersonic air-to-air missiles, which can hit targets at Mach 6. This ammunition is perfect for destroying bombers, AWACS aviation and other types of aircraft at long range.
In the future, in addition to these two platforms and as the design improves, an additional hypersonic weapon will be deployed on the Su-57 - an anti-ship cruise missile.