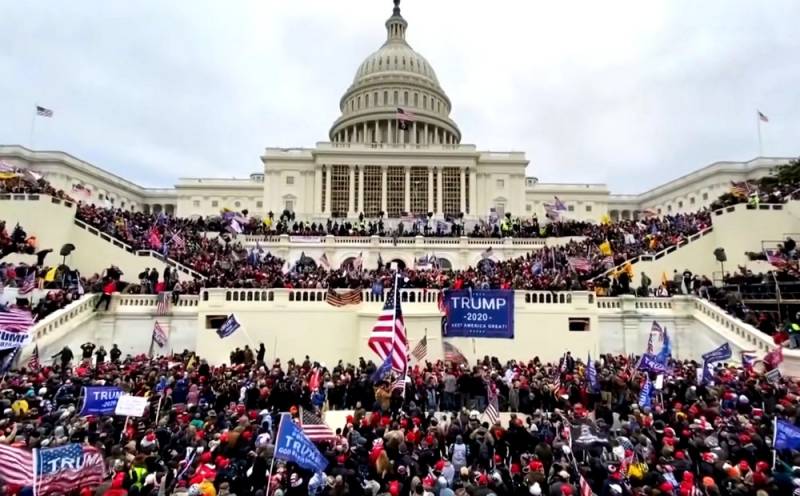 On Wednesday January 6, supporters of Donald Trump laid siege to Capitol Hill in Washington to protest the Republican presidential campaign defeat and the victory of Democratic candidate Joseph Biden. In this regard, a wave of ridicule erupted in the Chinese media and social networks about American "democracy" - the media compared the assault on Congress with the anti-government protests in Hong Kong in 2019 and accused Washington of hypocrisy. Writes about this South China Morning Post.
Expressing the views of the Chinese Foreign Ministry on the events in the United States and commenting on the double standards of some statesmen and the United States media in covering the events in Washington and Hong Kong, Chinese Foreign Ministry spokesman Hua Chunying made a statement to the press on January 7.
Chinese people have the right and freedom to express their opinions and comments on the Internet. I believe that many who saw these scenes in the United States have returned to a sense of déjà vu, although these events have generated very different reactions from a number of people in the United States, including some media.
- Chunying noted.
At the same time, she clarified that in Hong Kong, despite the very aggressive actions of the demonstrators, the police showed restraint and professionalism, and not a single protester died. In the American capital, four people have already died in less violent clashes.
In the US, the events in Washington are condemned as a "violent incident," and the people involved are called "rioters", "extremists" and "thugs." Now compare this with what was said about the actions of aggressive demonstrators in Hong Kong: "a beautiful sight", "heroes of democracy." The media and US officials then stressed that "the American people support them."
- the representative of the Chinese Foreign Ministry revealed the overseas double standards.
On the Chinese social network Weibo, posts on "Trump supporters are storming the US Capitol" were viewed 640 million times, with commentators also talking about American bias.
US Vice President Mike Pence argued that peaceful protests are the right of US citizens, but that what happened on Capitol Hill was unacceptable. However, when protesters harm the Hong Kong Legislative Council, they speak differently.
- said one of the commentators.
By using double standards, the United States will end up hurting itself, because by approving violence elsewhere, it actually incites aggression from its own citizens. The hypocrisy of both parties in the United States is evident in this matter.
- said Lu Xiang, a specialist in US affairs at the Academy of Social Sciences of the PRC.