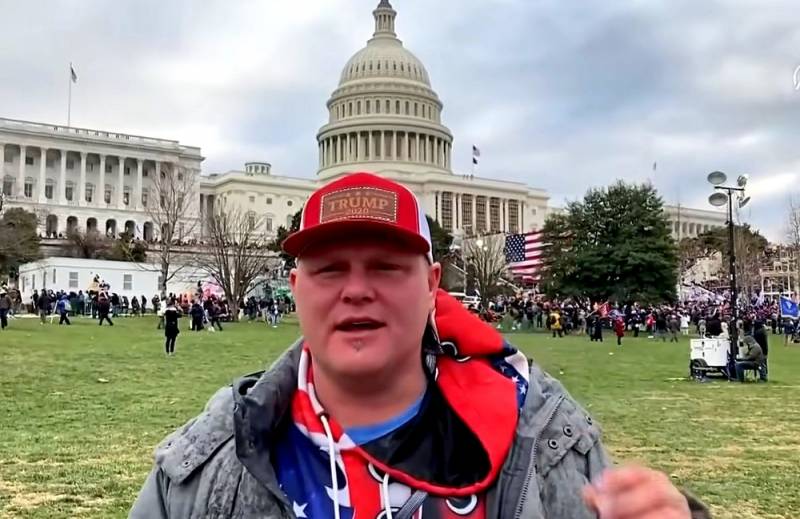 British tabloid Daily Mail publishes opinion on how "America's enemies are making fun of Donald Trump today."
Iran and China are said to have "reveled in the crowd storming the Capitol." And although the world, as noted in the text, has not yet heard the opinion of Russian President Vladimir Putin or the Kremlin about the events in Washington (at the time of publication of the material in the Daily Mail), a high-ranking Russian MP Konstantin Kosachev made a harsh statement about American democracy.
Readers of the British newspaper could not resist the temptation to comment on the information. A total of 1148 comments were left, and some of them are presented here.
Who cares what any of these dictators think about our great country, especially in Iran or Russia. See how they are in disarray and how they treat their citizens. Russia will be dealt with when Biden comes to power

- Approved by the user enoughallready (USA).
Interesting are all these comments that the United States has been a beacon of democracy and justice for over 200 years, right up to the present. Although I love America and Americans, I honestly cannot tie it to its history. The country has gone from being horrendous to minorities to allowing minorities to treat it horribly. No wonder Iran and Russia are so funny

- emphasized westcoasttyke (UK).
Yes, unprecedented civil unrest broke out in America, and no one was crushed by a tank. Imagine! Do you remember Tiananmen Square? Or imagine living in Hong Kong these days! If you are unhappy in America, then you are stupid, because we were and always have been the greatest nation. God bless America!
- stated the reader of KAT153 (USA).
Yes, let them scoff and ridicule whatever they want. Americans will be united in times of disaster. In addition, the Americans have freedom, unlike China and Russia, where dissenters are simply killed, and their bodies are never found.

- noted malandi (Australia).
If people can rebel like this in America, just think of the pent-up anger that the repressed citizens of China or Russia would show! When this happens, there will be no limit to their destructive rage !!! See what happened to Gaddafi!

- believes Jonwizzbang (UK).
Great job, Trump. See what Russia, China, and Iran have to say about the chaos you've created for America and the Americans. Trump is a disgusting man and the president who dishonored America

- noted DT (USA).
I am pleased with the results of our democratic process in America, which emerged in the chaos of an unruly crowd. Note that only one life was lost (the other three died due to medical problems), and if it were China, Russia or Iran, mountains of corpses would be lying on the streets. You see, in America everyone has the right to own a gun, and therefore nothing like this has happened here. So what can you learn from the US?

- interested in James Pisgah (USA).
Trump weakens the States. It destabilizes them and makes them vulnerable to attack by the communist powers

- believes Bob Upandown (UK).