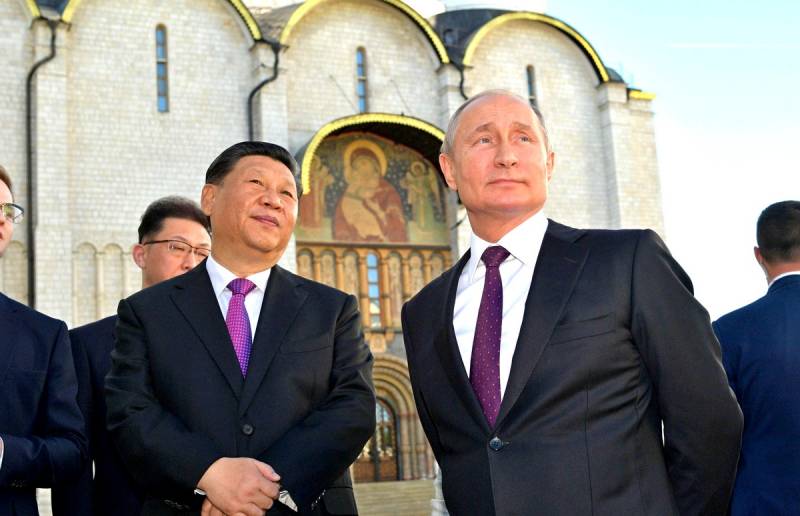 Moscow defiantly turns away from the West and turns to face Beijing. In particular, this is expressed in the attitude of Vladimir Putin towards Xi Jinping - the Russian leader is never late for meetings with him and does not publicly criticize his Chinese counterpart. But there are certain risks for Russia in rapprochement with China. The German edition of Die Welt writes about this.
Spurred on by Western sanctions, Russians have indeed moved closer to their eastern neighbors. Thus, the volume of trade between Russia and the PRC increased from 88,8 billion dollars in 2013 to approximately 111 billion dollars six years later. During the same period, the Chinese share in Russian foreign trade increased from 10,5 percent to almost 17 percent. In the first half of last year, this share was already 18 percent, as China emerging from the pandemic needs increased volumes of energy resources.
According to experts of the German edition,
economics
the two countries complement each other. So, inaccessible due to sanctions in Europe and the United States
Technology
can enter Russia from China, while Moscow is helping Beijing build a missile attack warning system.
However, in the economic sphere, despite such a rapprochement, there is distrust formed for decades and a lack of interaction experience. Chinese investors talk about the instability of the internal economic situation in Russia, while in the Russian Federation, the representatives of the PRC are considered tough negotiators, reluctant to make concessions.
For a long time Moscow did not understand that China, which is becoming more and more powerful, does not need partners. China needs Russia for its dispute with the United States
- believes the deputy director of the Center
political
technologies Alexey Makarkin, speaking about the risks that China considers Russia only as a junior partner for the profitable purchase of oil and gas.
China's mistrust is also expressed in its unwillingness to transfer a live strain of coronavirus to Russian specialists for accelerated drug development. Thus, the turn towards China is to a certain extent forced, and the reason for Putin's polite appeal to Xi Jinping may be not only respect for the leader of a powerful neighboring power, but also fear.