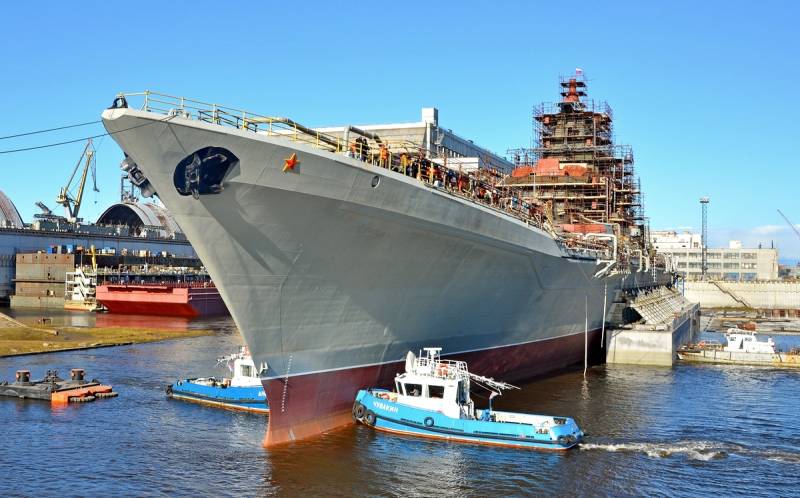 Interest of Western "partners" in the ships of the Orlan project
became clear
after the details of the modernization of the heavy nuclear missile cruiser "Admiral Nakhimov" of the Northern Fleet of the Russian Navy appeared. The updated TARK will be the most powerful ship in the world, armed with 240 attack and 240 anti-aircraft guided missiles (SAM).
On August 19, 2020, at Sevmash, Nakhimov was moved to the outfitting embankment, after being pulled out of the loading basin, and the second stage of work on the improvement of the ship, according to project 1144.4, began. In 2021, he should enter the factory sea trials, and by the end of 2022 he will return to the fleet. Thus, there is very little time left to wait, and the nervousness in the West is understandable, because the protracted repair work, which has been going on since 2013, is coming to an end, and this ship is really capable of changing the balance of power in the World Ocean.
The cruiser's power is truly impressive. The ship will have new air defense systems: the sea-based vertical launch air defense missile system 9K96 Redut (also Polyment-Redut) in the amount of 30 blocks of 8 launchers and the 42S6 Morpheus air defense system of short-range action (8x8). "Nakhimov" will receive unified launchers UKSK 3S14 (30x8), which can launch missiles of various types, such as ROC "Caliber", "Onyx" and hypersonic "Zircon".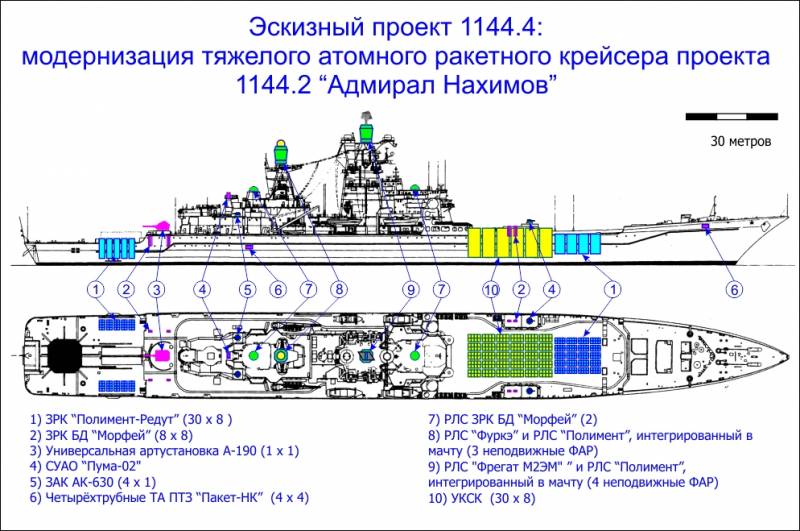 In addition, the cruiser will receive a small-sized anti-submarine complex "Packet-NK" (4x4), designed to destroy enemy torpedoes and enemy submarines in the near zone, as well as the "Answer" submarine missile system based on the 91RE1 missile. "Nakhimov" will also be equipped with a universal artillery mount A-190 "Universal" caliber 100-mm and four six-barreled 30-mm automatic ship gun mounts AK-630.
The radar component of the ship and the control system will change significantly. Nakhimov will receive the Puma-02 SUAO, the Furke three-coordinate detection and targeting radar, and the Fregat-M-2EM three-coordinate radar. In addition, each air defense system will be equipped with a whole group of its own radars.
Defeating such a ship with a displacement of 24 thousand tons and moving at a speed of 32 knots will be very problematic.