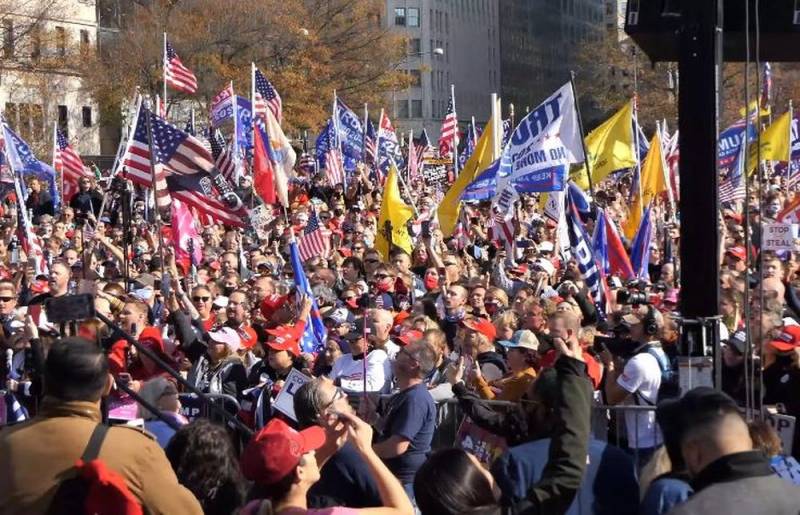 On January 6, 2021, the US Congress is to approve the decision of the electoral college, which recognized Joe Biden as the winner in the election of the head of state. At the same time, the still incumbent President Donald Trump is collecting his "Maidan", he called on supporters to go to the march of those who disagree with the voting results and walk across Washington on the same day.
On his Twitter account, Trump posted a video in which he called people to the streets to prevent them from stealing their victory. He called the upcoming event the largest event in the history of the District of Columbia, where the capital of the United States is located.
Biden's supporters have already accused Trump of "encroaching on democracy" and even a direct attack on the main "American value." Some of them began to threaten him with imprisonment, posting pictures of a solitary prison cell, while others made fun of him, showing photographs of Barack Obama's inauguration taken from the air, which recorded a huge number of people.
Only a sociopath with an exorbitant ego can recklessly plan this. Human deaths will result from this super contagious covid party
- says actress Patricia Arquette.
However, Trump supporters fought back these "arguments." They noted that if one of the famous and high-ranking representatives of the US Democratic Party had published this, then those who disagree with Republican Trump would now praise them. They would write words of support and rave reviews, put likes and prepare banners, and they would generally "caveat" democracy and the coronavirus pandemic. Moreover, they would consider it a manifestation of democracy, since the United States is a country of rights and freedoms.
Trump himself does not lose courage. He has already promised to present "a huge amount of evidence" that the results of the citizens' expression of will were cynically falsified.