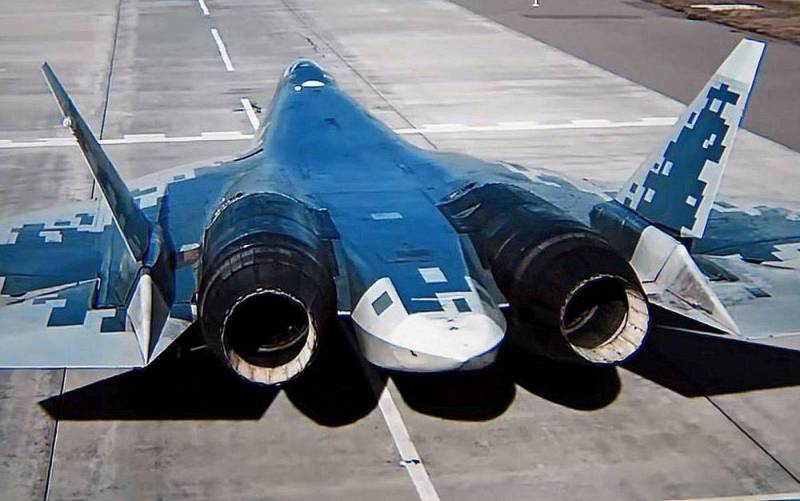 Russia will showcase its fifth generation Su-57 fighter with a new product 30 engine (working designation of a "second stage" aircraft engine) in 2022. In the same year, the Russian Aerospace Forces will begin to receive the updated Su-57, writes the American edition of Military Watch.
According to information received from knowledgeable sources, the power unit will be named "Saturn 30", and it will be the most powerful in the world ever installed on an aircraft of this type. Currently, the Su-57 uses the AL-41F1 (first stage engine - "product 117") - an improved version of the AL-41 power unit, which is installed on the Su-35.
The Su-57 first took to the skies in January 2010. In December 2020, the Russian Aerospace Forces received the first serial copy at their disposal. The aircraft manufacturers have promised that the rate of production of fighters will grow to more than 15 units per year to ensure not only Russian troops, but also export supplies. It is believed, although it is not yet documented, that Algeria was the first, without advertising information, to have already placed an order for the Su-57. In addition, one should not exclude the serious interest of China, Vietnam, Myanmar and a number of other countries.
The delays in serial production among the Russians can be partly explained by their desire to minimize the number of aircraft with AL-41F1 engines. At the same time, this power unit is only 9% less powerful than the F119 engine installed on the American F-22 Raptor.
It should be clarified here that the F119 is now the most powerful engine in the world used in twin-engine fighters. At the same time, the American F135 aircraft engine installed on the F-35 Lightning II is the most powerful in the world in the single-engine fighter category.
When the Russians present Saturn 30, they will push the Americans on the podium in both categories. This is not surprising, since throughout the Cold War Soviet aircraft engines were traditionally more powerful than their Western counterparts. However, the 15-year decline after the collapse of the USSR left its mark on the Russian aviation industry. But now the Russians are catching up and the Saturn 30 could potentially be used in other Russian developments, including single-engine and next-generation aircraft.