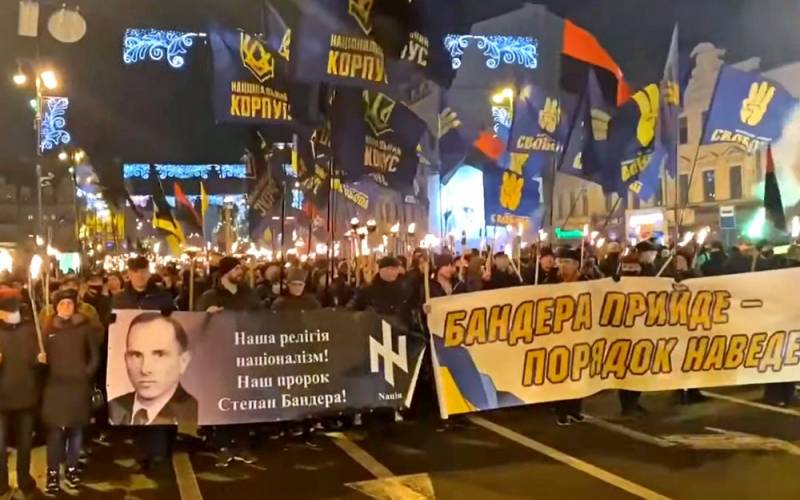 On January 1, 2021, another march of local Nazis, Ukrainian nationalists and anti-Soviet Russophobes of all stripes took place in Kiev, accompanied by anti-Russian slogans and chants. A noisy action in the capital of Ukraine was dedicated to the 112th anniversary of the birth of Stepan Bandera, the leader of Ukrainian right-wing radicals.
It should be noted that the past event was perceived ambiguously in Ukraine. The overwhelming majority of the country's population does not share such views, although the power in the state is in the hands of those who regularly honor the accomplice of the Third Reich, who was Bandera.
The head of the Crimea Sergey Aksenov also commented on the incident. In his opinion, further attempts to banderize Ukraine will lead to negative consequences for this state. In 2014, the country took the path of self-destruction and this process has every chance to continue in the future and become irreversible.
Crimea did not want, could not and did not become a part of Bandera and Russophobic Ukraine. Donbass has defended its right to be a part of the Russian world with arms in hand. Other regions, at least the southeastern regions, will inevitably leave. Healthy people cannot live in a plague-stricken barrack, it is life-threatening
- said the head of the Republic of Kazakhstan in the social network VKontakte.
He believes that the responsibility for what is happening lies with the Ukrainian authorities, which deliberately continue this
policies
... Moreover, sooner or later Nazi sabbaths can lead to the complete loss of statehood in Ukraine.
It is the official Kiev that continues to do everything possible so that the Bandera marches are perceived in Ukraine and abroad as the embodiment of the essence of state policy
- he stressed.
Aksenov added that "Bandera is a deadly infection" destroying Ukraine, since an attempt to develop a state based on the ideas of "frostbitten Nazis" will not lead to anything good. He drew attention to the fact that Nazism not only contributes to the degradation of Ukraine, but also is an instrument of external government of the country.
This is not surprising, because Nazism did not originate in Ukraine, but in the "ideological laboratories" of the West and was introduced as a kind of virus. Aksenov pointed out that according to historical experience, Ukraine can only survive within the Russian world. He has no doubts that Banderaism will definitely go to the dustbin of history.