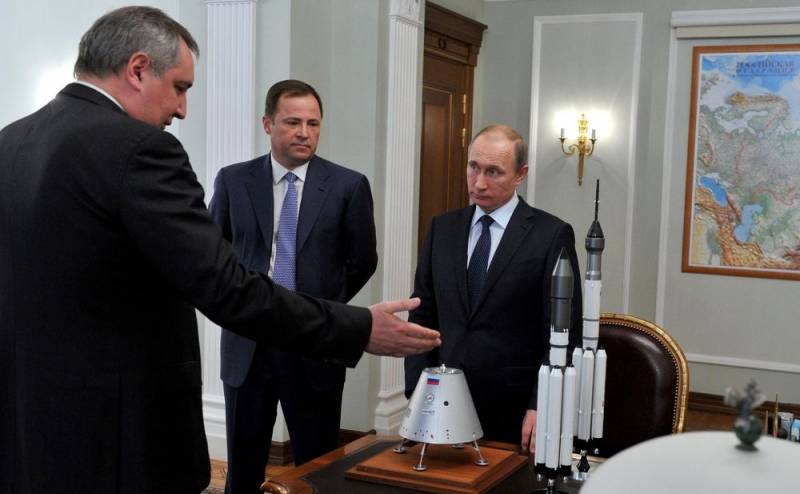 The head of Roscosmos Dmitry Rogozin congratulated everyone on the upcoming New Year and shared on his Twitter account the plans of the state corporation for 2021. He gave details of the continuation of the refurbishment to a new rocket and space
machinery
and announced the resumption of Russia's exploration of the Moon, a natural satellite of our planet.
Rogozin wished everyone optimism and noted that space exploration is a vital necessity, since the Earth is "surrounded by the world's cosmic ocean."
According to him, in October 2021, the Russian automatic interplanetary station (AMS) Luna-25 should be sent to the Moon.
Our "Angara" flies again
- the functionary promised.
Note that "Angara" is a family of launch vehicles of four classes. Light - "Angara-1.2", medium - "Angara-A3", heavy - "Angara-A5" and "Angara-A5M", as well as increased carrying capacity - "Angara-A5V". But there are no special achievements yet. In 2014, test launches of "Angara-1.2" (three launches are provided) and "Angara-A5" (six launches are provided) were carried out.
In 2020, Roscosmos carried out only 17 launches,
by setting
anti-record. One of the launches was the first in 6 years (the second in a row) test launch of the Angara-A5 heavy rocket,
successfully
held on December 15th.
The delays are associated with the relocation of the Khrunichev State Research and Production Center from Moscow to Omsk. At the same time, the enterprise must produce four more Angara-A5s for testing and the same number for serial launches. Moreover, the delivery of serial launch vehicles is scheduled for 2022–2024.
A similar situation with launches was observed only at the dawn of Soviet cosmonautics in 1957-1961. At the same time, Rogozin blamed the COVID-19 pandemic for this, rather than competition and the loss of part of the international space launch market.