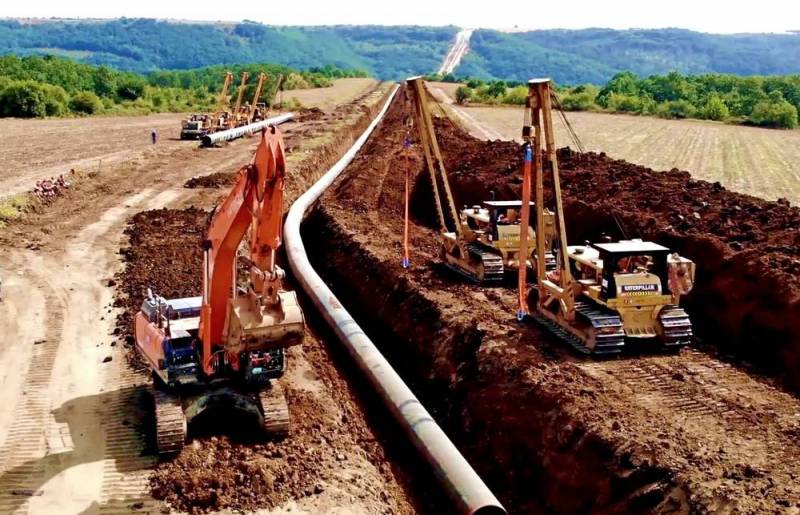 At the end of 2020, a good one came
news
for Russian
economics
... Bulgaria has completed its part of the Balkan Stream pipeline, and now our gas will go to friendly Serbia. Why was Uncle Sam looking the other way this time, and Sofia was able to fulfill her obligations?
Large and well-founded doubts about the reliability of Bulgaria persisted until the very last moment. Precisely because of the quiet sabotage of the South Stream project by Sofia, which was extremely destructively influenced by the United States, Gazprom had to get out and block an alternative pipeline through Turkey. They built it, but they got a lot of additional problems with Ankara, whose external
policy
in recent years it has been in tough confrontation with Moscow. The hopes of the domestic monopolist are pinned on the second line of the Turkish Stream, through which the export of 15,8 billion cubic meters of gas should go to the countries of South-Eastern Europe.
And here again problems arose with Bulgaria. You can't get away from geography, it is through its territory that the further transit of "blue fuel" to Serbia, Hungary and Slovakia should pass. Belgrade completed the laying of its part of the main gas pipeline back in December 2019. Official Sofia also managed to supply its own needs with Russian gas on time. But in order to unite the Balkan Stream, which is a continuation of the Turkish Stream export line, it somehow went wrong. It got to the point that President Vladimir Putin had to re-arrange for the Bulgarians to be publicly harassed for the traditional red tape. Everything went to the point that our "brothers" would become the second "Denmark", but it seemed to work out. Serbian President Aleksandar Vucic said in this regard:
The test gas passed through the gas pipeline. We didn't make a big fuss about it, but on December 30th everything starts as I promised.
Speaking about specific figures, before the commissioning of all compressor stations in Bulgaria and Serbia, which is expected in 2022, the Balkan Stream will be able to pump from 3 to 4 billion cubic meters of gas per year. Hungary's connection via interconnector is scheduled for October 1, 2021. Official Belgrade has recently been very harsh about the inadmissibility of "American racketeering in foreign policy." Why did everyone in Southeast Europe get together so at once and begin to finish building the pipeline?
There are several reasons for this.
At first
how we detail
told
Earlier, global LNG prices bounced back from their historic spring-summer lows. Asia was the first to start recovering economically, prices for "blue fuel" are high there again, so LNG suppliers drove their tankers there. Accordingly, there has been some gas shortage in Europe after the recent abundance, since raw materials are sold there cheaper. Capitalism.
Secondly
, there is a noticeable cooling both in Asia and in Europe, and the winter is expected to be rather severe. This also leads to increased fuel consumption.
Thirdly
, "Gazprom" expires the first year of the transit agreement with Ukraine, according to which the pumping of 60 billion cubic meters of gas a year was booked. In the next four years, the reservation is provided for only 40 billion cubic meters, and for everything from above you will have to pay at an increased rate. This is superimposed on the fact that due to the gas shortage in Europe, Hungary, Poland and Slovakia do not have excess fuel for Ukraine itself. Kiev will either have to be content with reserves in UGS facilities, but they cannot last for a long time, or begin to steal gas from a transit pipe for Europe.
It is clear that such a dependence cannot suit European consumers, therefore they are interested in diversifying the supply of hydrocarbon raw materials to the maximum. After all, they can when they need it.