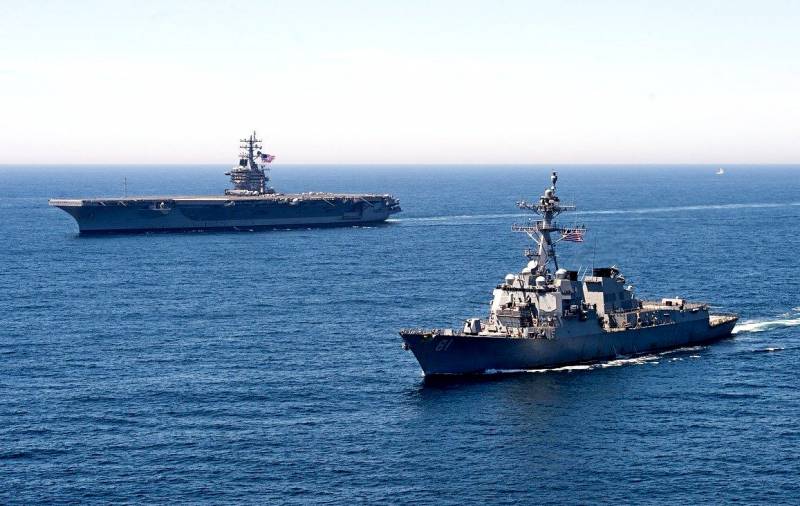 The Pentagon is pulling its naval forces to the Iranian shores, transferring an aircraft carrier group, two submarines, as well as destroyers and cruisers armed with 240 Tomahawk cruise missiles to the Persian Gulf. The Iranians say that they are ready to repel any aggression of the enemy.
The American nuclear-powered aircraft carrier USS Nimitz (CVN-68) entered the Arabian Sea, accompanied by three destroyers carrying at least 90 cruise missiles. In addition, the atomic submarine USS Georgia with 154 Tomahawks and the cruisers USS Port Royal (CG-73) and USS Philippine Sea (CG-58) with more than a hundred such missiles are located in the Persian Gulf. An Israeli submarine passing the Suez Canal is also moving in the direction of the Persian Gulf.
The IDF has not officially confirmed the report on Israel's submarine, but Chief of General Staff Aviv Kohavi expressed fears of "growing threats" from Tehran and its Syrian and Palestinian radical partners, as well as the Lebanese group Hezbola.
We are ready to defend ourselves, our friends and partners in the region, we are ready to respond if required
- stressed Kohavi.
In Iran, such actions of an Israeli submarine are considered an aggressive act, but they say that it will become a good target for Iranian defenses. Tehran fears an exacerbation of the situation by the United States in connection with the imminent resignation of Donald Trump from the presidency. According to a number of high-ranking American military personnel, the military operation can be both open and covert, as happened on January 3, 2020 during the destruction of the head of the IRGC corps Qasem Soleimani by a missile strike near the Baghdad airport.
According to Al Qabas, the Iranians are rapidly deploying air defense systems made by Russia and Iran around their nuclear facilities in Fordow and Natanz, fearing surprise attacks by the United States and its allies.
Unmanned aerial vehicles and short-range missiles are being deployed in southern Iraq to the places of concentration of pro-Iranian armed groups.
A new escalation of the conflict in the region was provoked by the assassination of Iranian physicist and nuclear weapons developer Mohsen Fahridzadeh - Tehran accused Israel's special services of eliminating him. A month later, Iran attacked the American embassy in Baghdad.