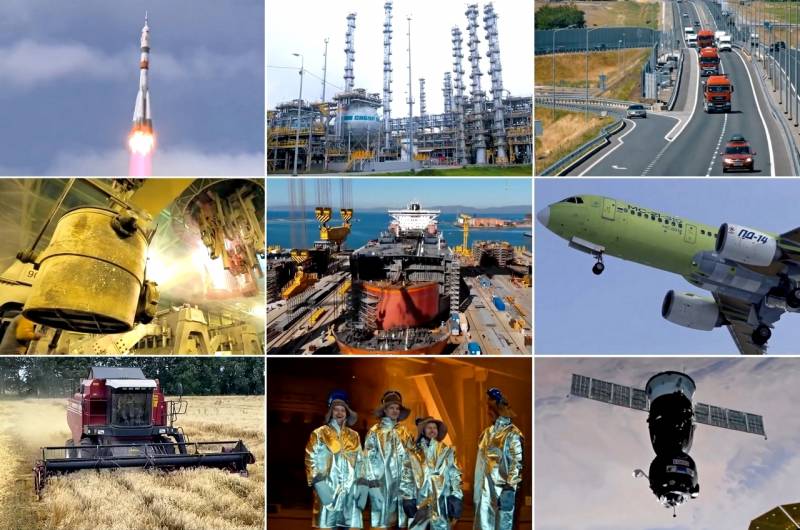 The outgoing 2020 turned out to be difficult for the whole world. However, despite the pandemic and related
economic
difficulties, Russia continued to move forward and achieved tangible success in many sectors.
In particular, about 318 production facilities were opened in our country this year, which is more than in 2019. At the same time, some of them have already begun to have a macroeconomic effect on the Russian economy.
In addition, in 2020, 23 million square meters were built and renovated. m of roads more than in 2019. The manufacturing industry showed growth. The power engineers did a great job, and the medical workers became honored heroes of the current year.
But Russia has achieved success not only on earth. Our shipbuilding has shown excellent results. This year, the UEC handed over 21 ships to civilian customers, and about 40 to the military.In 2019, these figures were 13 and 10 units, respectively.
Separately, it is worth noting the transfer of the first Aframax-class tanker to the customer and the commissioning of the world's first floating nuclear power plant, Akademik Lomonosov.
We also succeeded in the air. Domestic liners MS-21 and Il-114-300 made their first flights with domestic engines. The first serial fighter of the fifth generation, the Su-57, entered service.
Serial production of the latest NK-32-02 engines for the modernized Tu-160M2 bombers and assembly of the unit for the promising PAK DA have started. In addition, work began on the creation of the PD-8 power plant, and in the Urals, the construction of a production complex for the production of civilian regional aircraft L-410 was completed.
Finally, space. This year, Russia has carried out 16 rocket launches (not counting the planned launch of the Soyuz LV from the Kuru cosmodrome). Without exception, all missions were successful.
Also, 2020 was marked by the first dispatch of a manned spacecraft Soyuz-16 into orbit by means of a completely domestic rocket Soyuz-2.1a. In turn, within the framework of the next mission, the Soyuz MS-17 spacecraft set another speed record for delivering a crew to the ISS.
In conclusion, it is worth mentioning the arrival "home" of the unique floating cosmodrome "Sea Launch". Thus, after carrying out all the repair work and modernization, our country will be able to acquire a unique launching pad for launching promising missiles.