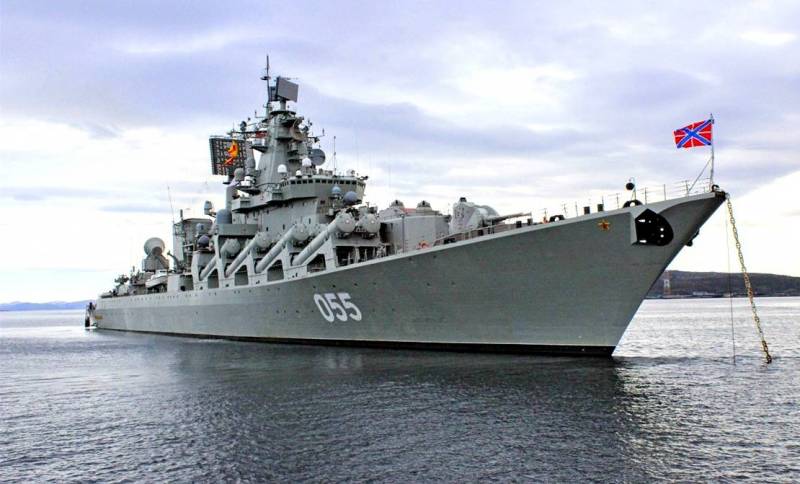 The missile cruiser of the Northern Fleet "Marshal Ustinov" received the challenge cup of the Commander-in-Chief of the Navy. The combat ship, designed and built back in the USSR, received the nickname "aircraft carrier killer" and, despite its considerable age, still raises concerns among the American Navy.
Initially, the project 1164 Atlant cruisers, to which Marshal Ustinov belongs, were created to counter aircraft carrier strike groups. The carrier-based aircraft of such combat formations provided protection for aircraft carriers at a distance of up to 800 km.
At the same time, "Atlanta" were equipped with 16 P-500 "Basalt" launchers, missiles of which could hit a target at a distance of 1000 km. At the same time, such a projectile developed a speed of Mach 2,56 and had onboard anti-air defense equipment, which ensured almost guaranteed delivery of the warhead to the target.
The aforementioned launchers also had nuclear equipment, which further "complicated the life" of a potential enemy. Project 1164 "Atlant" envisaged the creation of 10 ships, but fate decreed otherwise.
By the time of the collapse of the Soviet Union, only three cruisers were in service: "Moscow", "Varyag" and "Marshal Ustinov". At the same time, warships have not lost their relevance and still remain a serious threat to enemy aircraft carrier groups.
Modern Atlantes have been equipped with more advanced P-1000 Vulcan missiles, and in the future the ships can get Caliber or even Zircon. In addition, the cruisers are equipped with more powerful air defense and anti-submarine weapons, covering depths of up to 500 meters (the maximum depth of a Virginia class nuclear submarine does not exceed 480 meters).
Overall, the cruiser remains an effective weapon of war that NATO feared. This was clearly demonstrated by Marshal Ustinov in the North and Norwegian Seas, from where our ship "politely expelled" a NATO squadron.