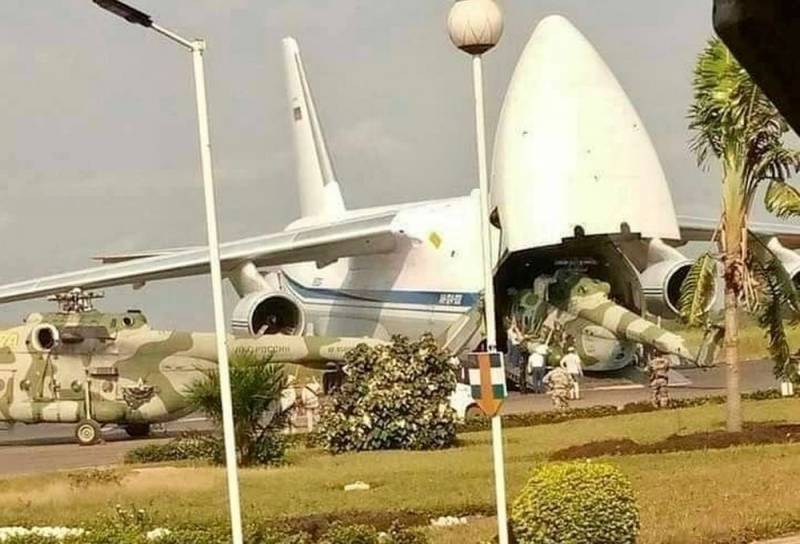 A photo from the Central African Republic appeared on the Web, in which two multipurpose Mi-8 helicopters of the Russian Aerospace Forces appear. Before that, the Ministry of Defense sent 300 military personnel to the CAR. This indicates that Russia is embroiled in yet another war.
It should be noted that according to the monitoring resources, on December 24, 2020, the above helicopters were delivered to the capital of the CAR Bangui An-124 of the Russian Aerospace Forces (district 82035). Information about the rotorcraft appeared immediately, but their type was unknown.
At present, another civil war is in full swing in the CAR. Rebels from the Coalition of Patriots for Change, led by former President François Bozizet, are fighting the country's government. He led the CAR until 2013, winning the previous civil war in 2001-2003. Recently, the country's Constitutional Court banned him from running in the presidential elections and a confrontation began.
Earlier, Aleksandr Zdanevich, a senior lecturer at the Department of African Studies at St. Petersburg State University, told the Dozhd TV channel that the inhabitants of the Central African Republic mainly survive on agriculture. Until 2013, the CAR exported diamonds and gold. But after a significant part of the deposits, mines and mines came under the control of the rebels, the export of these types of products came under an international embargo. But the CAR has more interesting energy raw materials.
The most important thing in the CAR is uranium. And gold and everything else is already like the cherry on the cake. Everyone strives for the CAR precisely because of the uranium deposits. The French are showing interest, we have some projects there in an embryonic state, but still there are
- summed up Zdanevich.