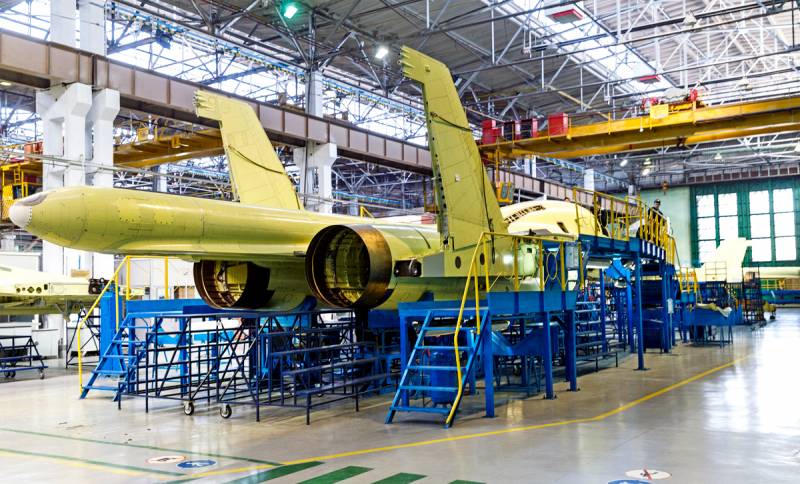 The United States has dealt another sanctions blow against Russia. He fell for not only a sore spot, our dependence on imported components, but also for the access of domestic defense enterprises to foreign sales markets, and this is already very serious. Will the Russian industry manage to find an adequate response to these new challenges?
Several days ago, Washington published an updated sanctions list, which included not only leading domestic corporations and concerns, such as Rostec, Rosatom, Roskosmos, UEC, UAC, Tupolev, Irkut, Sukhoi Civil Aircraft, Rosoboronexport and others, but also the Ministry of Defense of the Russian Federation, the Foreign Intelligence Service and the special flight unit "Russia". Now for the sale of American goods to these structures and
of technologies
requires a license from the Bureau of Industry and Security at the US Department of Commerce (BIS). Given the upcoming unpleasant consequences, this can be considered a declaration of war. At least trading.
Accessories
It is no secret that our country is seriously dependent on the supply of imported components. After the collapse of the USSR, up to a third of the enterprises of the Soviet military-industrial complex remained, in particular, in Ukraine. Until 2014, while this country remained in Moscow's sphere of influence, this did not seem to be a problem, but after that everything changed. Kiev imposed sanctions on the supply of aircraft and ship engines to Russia, as well as a number of other equipment. This created great difficulties, but the domestic industry was able to import substitution of key Ukrainian components.
But now a new blow is being delivered from the West. The "atomic bomb" under the Russian military-industrial complex was planted at one time by market reformers who uncompromisingly promoted the idea that everything you need can be bought abroad for petrodollars at any time. Therefore, within the framework of this flawed concept, the task of making "the world's largest" domestic microcircuits in smaller sizes was not even posed. Therefore, the Russian defense industry, unexpectedly for itself, has become dependent on the supply of components from the EU countries that are members of NATO, that is, on our potential military enemy. Now all this will have to pay dearly.
So, in 2014, after the sad events in Ukraine, then Deputy Prime Minister Dmitry Rogozin admitted that Western components and assemblies were used in 640 samples of Russian military equipment. Mostly these were electronics and optics. An impressive figure. A year later, at a report to President Putin, the figure was even greater: by 2025, it was planned to replace imported components from NATO countries in 826 samples of domestic weapons.
American sanctions hit precisely this pain point. Some work has been done over the past few years. In 2019, Vladimir Putin reported that technological independence had been achieved for 350 weapons. But, as we can see, there is still a lot of work left, and now all these problems will manifest themselves in bulk. The domestic industry will have to somehow get out, solving problems in the face of budget deficits and sequestration of expenditures. Can we handle it? In the end, of course, yes. But it will be expensive, and the launch dates for many projects will be forced to shift to the right.
Markets
The threat of depriving the Russian defense industry of access to its traditional sales markets seems to be much more serious. Our country is the second largest arms producer in the world, second only to the United States. True, according to some sources, China seems to have already moved Russia from this position. Domestic weapons are mainly sold to countries of the second and third worlds, where they are popular in terms of price-quality ratio. But now a lot can change for the worse.
For some reason, we were very happy when Turkey bought the S-400 air defense systems, considering it a great geopolitical victory. Perhaps this is so, but for the Triumphs, Ankara also received a package of American sanctions from Washington. This is a signal not only for the newly-minted "sultan" not to get too deeply buried, but also for all other potential purchasers of Russian weapons. If the PRC or India can still afford the sovereign right to choose from whom to buy weapons, then the smaller countries will already think about whether Washington should be angry.
And this is a very big problem. If the domestic military-industrial complex can eventually replace imported components, then it is completely incomprehensible how it can maintain its position in foreign markets. The Russian Federation and the United States are in disparate weight categories in order to measure their geopolitical influence on the countries of the second and third world.