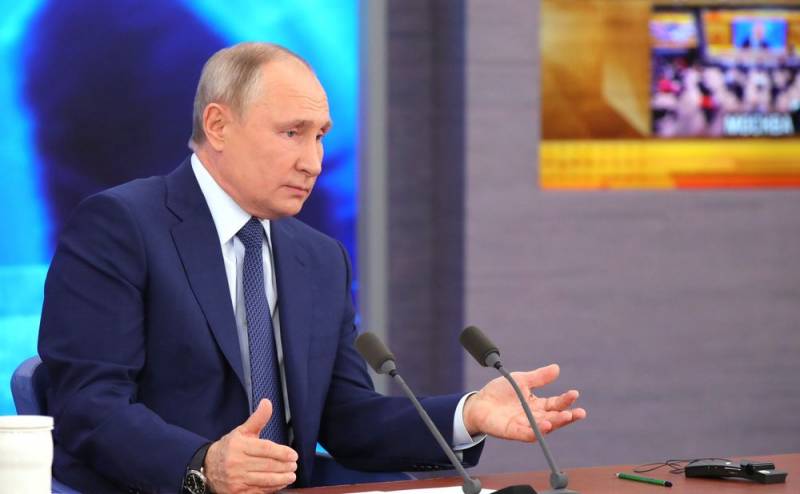 On December 17, 2020, Russian President Vladimir Putin held an annual press conference for the media. During the event, the head of state was asked a question regarding the future fate of Donbass and relations with Ukraine.
Putin noted that relations between Moscow and Kiev depend on the Ukrainian authorities. All the last leaders of Ukraine came to power thanks to promises to unite the country and end the war in Donbass. But after gaining power, they began to listen to the Russophobic radicals. Officials in Kiev have repeatedly said they will not comply with the Minsk agreements. But the Ukrainian authorities will not be able to unilaterally reconsider anything, since the representatives of Donbass must also be respected.
Russia both supported Donbass and will continue to support it. We will even increase our support. This applies to production, social issues, infrastructure, etc.
- he stressed.
You can rest assured that we understand the complexity of the situation. I repeat, we will do this not only on the humanitarian line, but also on the line of direct cooperation.
- he added.
Putin's words about supporting Donbass with "direct cooperation" were positively received in the DPR, where they found a subtle hint.
For the first time, Donbass sounded without the presence of Ukraine, as a separate entity. I liked the reference points - the build-up of aid "and so on." A new stage is beginning in the development of relations between the republics of Donbass and Russia. Ukraine has less and less space
- declared
EADaily
Head of the DPR Public Chamber Alexander Kofman.
It was important for us to hear what Moscow will support through direct cooperation. This means that Russia is ready to take decisive steps if Ukraine refuses or violates the agreements. It was a very powerful and well thought out message to the global community.
- said the deputy head of the DPR OP, poetess Anna Revyakina.
Minsk is slipping, but unshakable. There will be not only humanitarian, but also support for production and infrastructure. These words are very important and I hope that they will be implemented. There was an absolutely clear understanding that the republics should live, that production should develop in them, that we need a fishing rod, and not just the closure of humanitarian issues
- explained the ex-speaker of the DPR parliament Andrei Purgin.