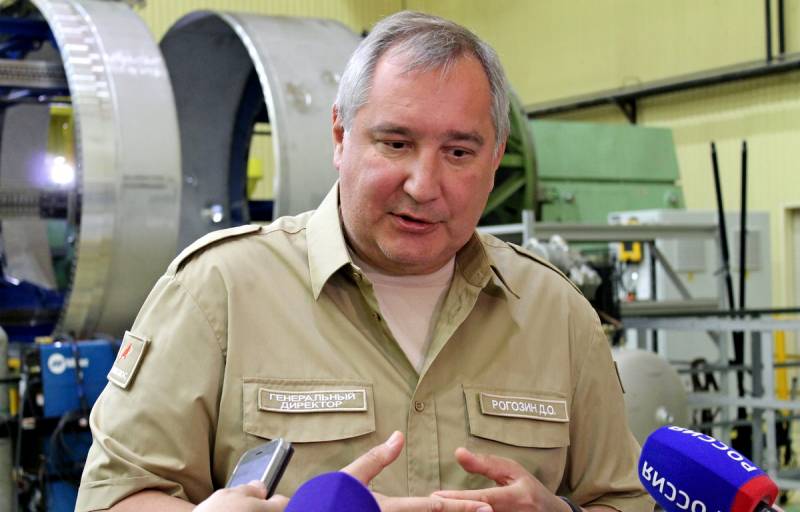 The head of the Russian state corporation Roscosmos, Dmitry Rogozin, is literally fixated on the American company SpaceX and cannot get it out of his head, constantly recalling it on occasion. The American edition of Ars Technica drew attention to this.
On December 18, 2020, the Soyuz 2.1b LV was successfully launched from the Vostochny cosmodrome, which delivered 36 OneWeb satellites into space. Following Rogozin shared on social networks photos and videos of operations to search for spent stages, providing them with his comments.
One of the stages of Soyuz-2.1b launch vehicle was found yesterday in Kobyaysky district of Yakutia. This year's only & the first commercial launch from Russia's Vostochny cosmodrome was on 18 December with Soyuz-2.1b taking a batch of 36 UK satellites. Pictures by Zemlya Bizonov pic.twitter.com/ubeH1bt3u2

- The Siberian Times (@siberian_times) December 20, 2020
It should be noted that Russian missiles are dropping their spent stages on sparsely populated areas of Yakutia. At the same time, the Russian government really controls the fall areas well. The Soyuz has four boosters, which serve as the first stage (side blocks "B", "V", "D", "D"). They stop working approximately 2 minutes after starting. The second stage, block "A", is undocked later.
Rogozin referred to the Dominican Boca Chica, where SpaceX is building a prototype for its Starship Mars spacecraft, and wondered if Americans can work in such harsh conditions as the staunch Russians do. Perhaps the head of the state corporation considered his statement a "good prick" to SpaceX, writes Ars Technica.
This is not Boca Chica. This is Yakutia, and in winter. OneWeb Mission 2's 42nd stage crash safety team was deployed two days before yesterday's launch. Temperature - minus 52 °. Temperature limits for launches for Soyuz-2 - minus 40 °. Yesterday it was about 30 ° - not serious. I wonder if the gentle SpaceX is capable of working in such conditions? But I'm not worried about the Russians. We are accustomed to frost. What is good for a Russian, is certain death for Bokachiks
- Rogozin wrote.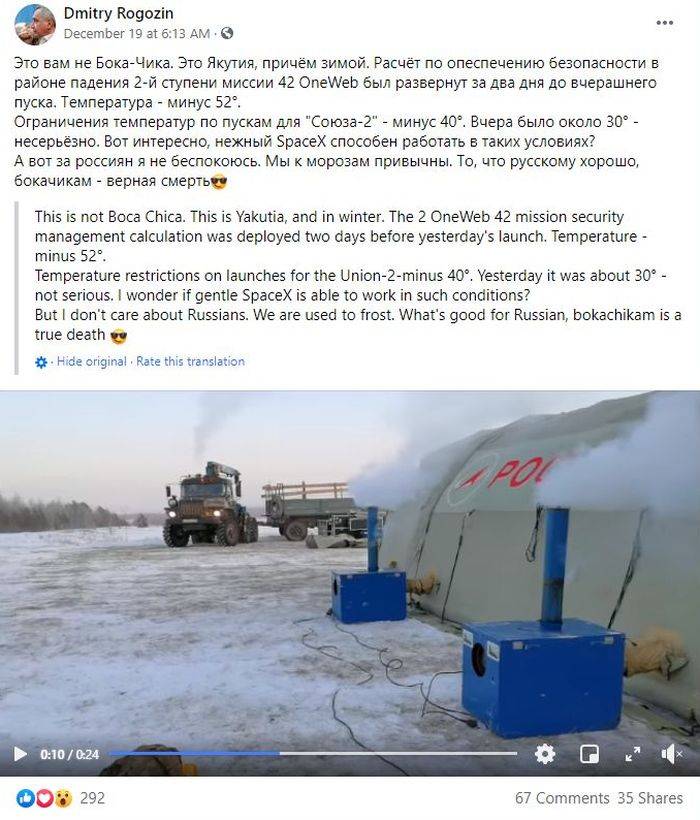 Some users replied to Rogozin that "gentle" SpaceX employees do not need to find the stages of their rockets in bad weather, because they have built a more advanced rocket. The first stage of the Falcon 9 rocket itself returns to the right place and can be reused, while the second stage burns out in the atmosphere. And in the future, SpaceX wants to create a fully reusable rocket.
Rogozin had a difficult year, according to the publication. Falcon 9 takes away commercial launches from Russian Protons. The Crew Dragon has relieved NASA of the need to book space on Soyuz spacecraft to transport its astronauts to the ISS. Rogozin reacts to changes in financial circumstances and it seems quite obvious that, no matter how "gentle" SpaceX is, the company's success irritates the head of Roscosmos, the American media summed up.