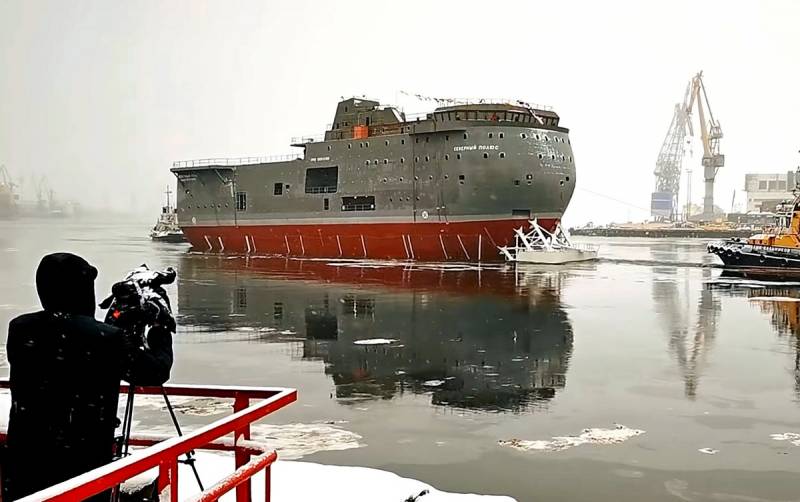 The newest Russian ice-resistant self-propelled platform (LSP) "North Pole" of project 00903 may become "the ugliest ship in the world," writes the American online edition The Drive.
Previously, Russia, and before that the USSR, used drifting ice stations to support research expeditions in the Arctic. They were built on natural ice floes. Since 1937, 40 such missions have been carried out.
However, the beginning of global climate change and the subsequent melting of ice put an end to this practice. The North Pole-40 was the last such station. It was created in October 2012 and evacuated in May 2013 due to the self-destruction of the ice floe. In 2015, the Russians tried again to create a station on an ice floe, but gave up after four months of effort.
After that, the 00903 project appeared, thanks to which the Russians will be able to autonomously conduct research missions for up to two years in a row.
LSP "North Pole" was launched on December 18 in St. Petersburg. She is able to independently move (drift) at speeds up to 10 knots. Crew - 14 people, scientific staff - 34 people. The length is 83,1 meters, the width is 22,5 meters, and the displacement is about 10,4 thousand tons. It can be used to conduct geological, hydroacoustic, geophysical and oceanographic research.
The vessel was built for the Federal Service for Hydrometeorology and Environmental Monitoring, better known as Roshydromet, at a cost of $ 100 million. It should be the first vessel permanently based in the high latitudes of the Arctic. But it looks ugly. The supply can be carried out by icebreakers, or by the Mi-8AMTSh-VA helicopter on board. In the future, the Mi-38.
The North Pole will help Russia extract more oil, gas and other useful resources. The Arctic is gaining more and more importance for Moscow and the LSP is assigned an important role, sums up the media from the United States.
Note that the Americans have significantly less experience in the Arctic. They practically do not have their own icebreaker fleet. Little is known about the research of scientists from the United States. Therefore, we want to explain that the peculiar contours of the hull were made for a reason. It is thanks to them that the ship should not freeze into the ice.