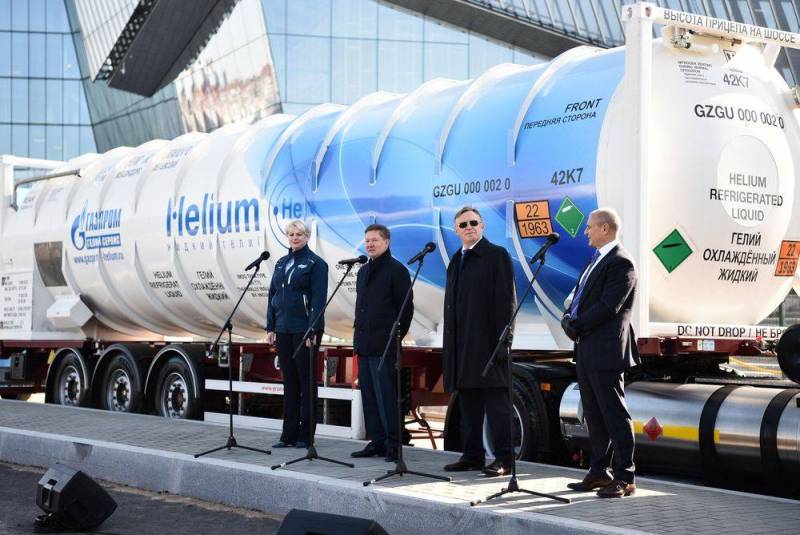 The construction of a large-scale production facility in Siberia is nearing completion in Russia. According to experts, the activities of the enterprises being built may in the near future undermine the international market for helium, which is increasingly important in medicine.
technology
, space exploration and national security. StarTribune writes about Russia's "helium" ambitions.
The United States and Qatar together produce the vast majority of helium in the world. But from 2021, Russia plans to take high export positions for this gas. Russia's ambitions coincide with America's withdrawal from the global helium business. In this regard, many fear that Moscow will use the same methods of political pressure when trading helium as it does against consumers of Russian natural gas and crude oil.
According to Michael Dall, an economist at the IHS Markit research company, in the early stages, helium supplies from Russia could lower world prices. But in the "long game", the dynamics of prices and supplies may become more politically motivated, as is the case in OPEC when trading oil.
One of the world's largest untapped natural gas fields with a high helium content is located in Siberia. The Kremlin is preparing to seriously reshape the global helium market with the launch of Gazprom's specialized enterprises next year. The Russian gas concern will sell to the world market canisters with cryogenically cooled liquid helium from Vladivostok, which has good opportunities for transporting gas to China and the western United States.
According to the helium market analyst Phil Kornbluth, having reached the peak of its gas production capacity in the mid-20s, Russia plans to produce from 25% to 30% of all helium used in the world.