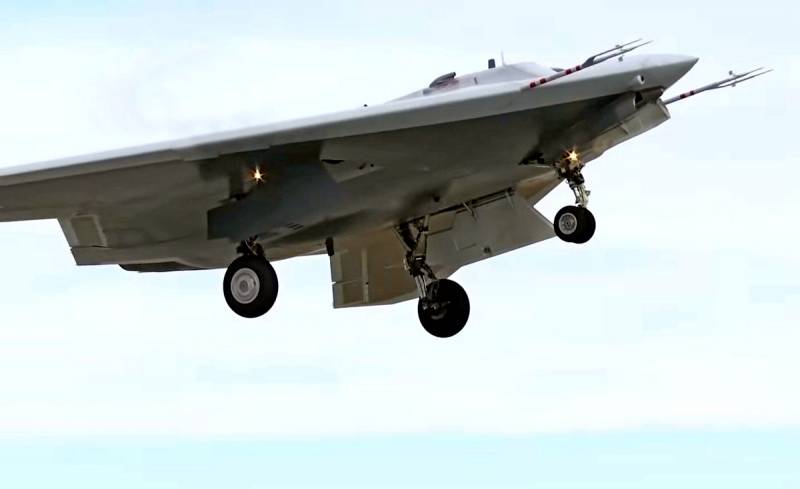 Russia is actively developing drones and is not going to stop there, writes the Chinese portal Zhongguo Junwang, the PLA's only official Internet resource.
Russia currently has more than 2000 UAVs and 7000 trained specialists, operators and other personnel. In the Ground Forces, the Air Force, the Airborne Forces, the Navy and the Strategic Missile Forces, 53 units with an unmanned
technique
... But the Russians continue to develop "innovative martial arts."
Russia reportedly saw a "big breakthrough" in 2018. Since then, the "pedigree" of Russian drones has been steadily increasing. The Russians have formed many ideas based on both their own research and imported modernizations. They were embodied in the Tachyon, Orlan, Eleron and Granat drones. Dozens of companies, including RSK MiG, Sukhoi Design Bureau, United Instrument-Making Corporation, Tupolev Design Bureau, took part in this.
On the basis of two Israeli drones, the IAI Searcher and the IAI Bird Eye 400, the Russian Forpost and Zastava were created. Now these are the main drones of the Russian army, necessary for gaining information superiority on the battlefield and strengthening the defense of important objects.
In 2020, the Russians have made great strides in creating heavy and shock-reconnaissance drones. Projects "Okhotnik" (S-70), "Altair", "Altius-RU", "Orion" and a number of others have entered the stage of flight tests and acceptance works.
For example, the S-70 was tested together with the Su-57 fighter; it will become an unmanned bomber, and possibly a sixth generation interceptor. Orion will work in groups of 3-6 units and carry out various unmanned missions (operations). Each unit of the "pack" will carry 4 ammunition (missiles or bombs). Altair is a new model of a reconnaissance drone. It can fly continuously for 48 hours and has a total flight range of 10 kilometers. The Russians test all their developments in Syria, so their combat capabilities and the experience of military personnel are constantly being improved.
The Russians have successfully completed the development of a drone operator's helmet, codenamed Svarog, and will be able to observe the situation on the battlefield in real time, as well as perform precise operations using head rotation and pupil positioning technology.
The bee swarm tactics are still in development. It will open up the possibility of coordinated human-drone combat. One or two manned aircraft will be accompanied by 4-8 drones, forming a mixed aviation group, while the manned aircraft will be responsible for command, and the drones will be responsible for assault and reconnaissance tasks.
By 2025, the power of Russian unmanned aircraft should increase even more.