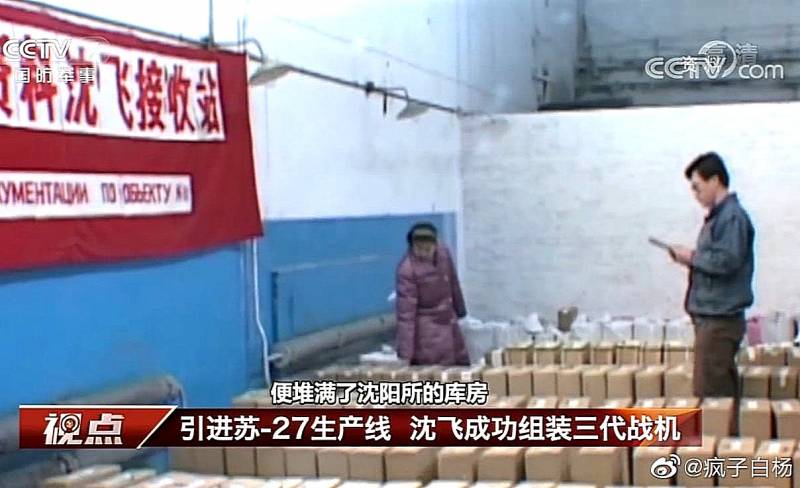 The main broadcaster in mainland China, China Central Television (CCTV), showed the volumes transmitted by Russia in the 90s
technical
documentation for the Su-27. This was allegedly done as part of an agreement between Moscow and Beijing on the assembly in China under license of these fourth-generation multipurpose heavy fighters from kits supplied from Russia.
It should be noted that an interesting shot that appeared after that on the Web sheds light on some features of that historical period. Social media users called it documentary evidence of how officials were literally selling the country at the time. They argue that, in fact, the technology was transferred to the Su-27 in its entirety. Nobody bothered which "piece of paper" should be given and which should not. Therefore, we gave everything "so as not to violate reporting."
This is how China got its modern combat aviation. Moreover, the Chinese do not hide this and, as if in mockery, show the room filled with boxes with documents.
However, some Russian users believe that only assembly documentation is shown in the frame, and the total amount of "papers" is much larger. They even cite a Soviet joke that "an aircraft is ready for certification when the weight of the documentation is equal to its own." However, from one shot, we cannot judge the true dimensions of the room in which all this took place.
We remind you that in 1996 an agreement was signed to assemble 200 Su-27SK and Su-27UBK. As of 2008, 105 aircraft were manufactured. The assembly of subsequent batches was not carried out, the Chinese received the main thing - the documents, so the contract was never fully implemented. As of 2016, the PLA Air Force had 43 Su-27SK and 32 Su-27UBKs.