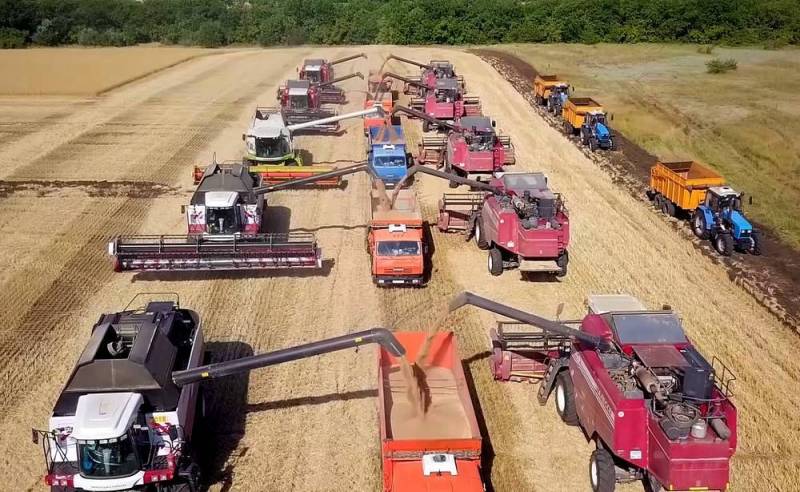 Food problems are increasingly felt in many countries around the world. However, the fall in food supply for the population does not apply to Russia, which is increasing the volume of harvest. The reason for Russian agricultural success is climate change, leading to an increase in average annual temperatures and allowing Russian farmers to collect high yields in the vast territories of Siberia and the Far East. The New York Times writes about why Russia is breaking records for yields, while the rest of the world is in decline.
No other country is better positioned to benefit from climate change than Russia
- believe American experts.
Russian yields are expected to rise in the next decade due to higher temperatures, while yields in Europe, the United States, India and several other regions will decline. This is confirmed by real facts. So, during a press conference, Russian President Vladimir Putin announced that in 2020 the Russian Federation could collect a record 134 million tons of grain. Last year this figure was 121,2 million tons. By the end of this century, the GDP of Russia, Canada and Iceland, due to climate change favorable for these countries, could grow fivefold. The expansion of shipping in the Arctic region, as well as an increase in the time of the sowing season, will bring significant benefits to the Russian Federation.
In addition, stable processes of melting permafrost will soon make it possible to populate the vast eastern territories of Russia. Seven years ago, Putin declared that the rise of the eastern part of the Russian Federation was a national priority for the entire 21st century, and that climate change could lead the east of Russia to agricultural prosperity.
The Western sanctions of 2014, in response to which the Russian Federation had to announce counter-sanctions and develop its own agricultural sector, indirectly contributed to the rise in agricultural production in Russia.
By 2018, Putin's sanctions paid huge dividends: since 2015, Russian wheat sales abroad jumped by 100%, to about 44 million tons, exceeding the export figures of the United States and Europe. Russia is currently the world's largest exporter of wheat, occupying almost a quarter of the world market.
- notes The New York Times.