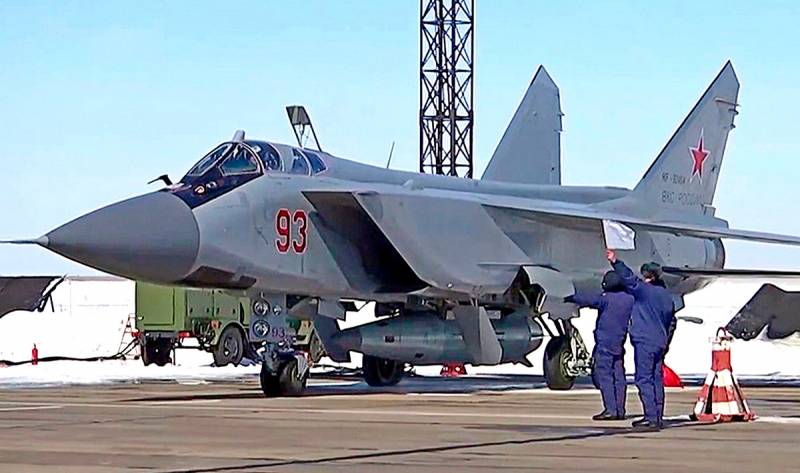 The Russian Air Force has created a new strike unit, which includes one of the most dangerous combat aircraft - the heavy jet MiG-31K Foxhound, designed to improve the offensive capabilities of the Russian Federation in the northern regions of the country and target its Arctic gates. The Military Watch Magazine writes about the features of the interceptor fighter.
The Foxhound is considered the most combat-capable Russian aircraft to engage air targets and the heaviest combat aircraft in the world designed for this role.
A modified version of the interceptor, the MiG-31K, has been in service with the Russian Armed Forces since the beginning of 2018 and is intended exclusively for long-range strikes. Each of the aircraft is equipped with one Kh-47M2 "Dagger" hypersonic aeroballistic missile with a flight range of 2000 km, Mach 10 speed and high maneuverability. The missiles are nearly impossible to intercept, and when combined with the wide range of the Foxhound themselves, they provide a longer range for ships' ground and surface targets.
The deployment of MiG-31K aircraft along with standard MiG-31 interceptor variants will improve interaction between units with different combat missions, as they use identical infrastructure and services.
The planes deployed on the Kola Peninsula will be able to hit targets throughout Europe without refueling in the air. They will also be capable of attacking targets in the Arctic and Greenland and deny NATO surface ships the ability to operate in much of the North Atlantic. Even without using their impressive range, Foxhound jets just circling over their airbase in Monchegorsk will be able to hit targets in Scandinavia and the Baltic states, as well as in parts of Germany, Poland and Ukraine.
As the Nordic countries seek to quickly modernize their air warfare capabilities, including the activation of the first squadron of F-35 stealth fighters of the Norwegian Air Force, the deployment of the MiG-31K equipped with a "Dagger" gives the Russian military the ability to quickly strike air bases on the enemy territory at the initial stage of the war.