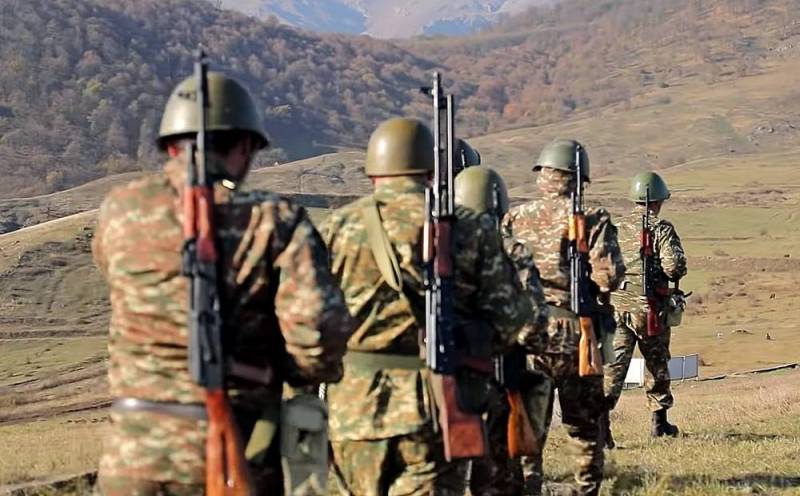 Footage has appeared on the Web in which Russian peacekeepers are withdrawing a large detachment of Armenian military (one hundred militias) from the encirclement of the Azerbaijani Armed Forces near the villages of Khin Taher and Khtsaberd of the Hadrut region in Nagorno-Karabakh. The Armenian Defense Ministry confirmed the accuracy of this video.
It should be noted that the armed confrontation around the mentioned villages
started
December 12, 2020. The Azerbaijanis, having a significant advantage in forces and means, blocked two Armenian settlements, which, by agreement between the parties, were to retreat to Baku.
After that, the Azerbaijanis went on the offensive, and the Armenians reported about dozens of their fellow countrymen who were captured by the enemy. Several dozen Armenian militias managed to independently leave the Azerbaijani encirclement. Russian peacekeepers intervened in the situation and stopped the armed confrontation.
In addition, the Azerbaijani military unblocked the road connecting the villages of Khin Shen and Mits Shen in the Shusha region of Nagorno-Karabakh with the Goris (Armenia) - Stepanakert highway. The servicemen of the Armed Forces of Azerbaijan have moved to the nearest heights.
At the same time, a post of Russian peacekeepers was established near the village of Khin Shen to prevent possible provocations from both sides. There were also exacerbations near these two villages, so the actions of the peacekeeping contingent are entirely correct. The Russians occupied the disputed territory until the issue was resolved and did not allow another armed confrontation to flare up.