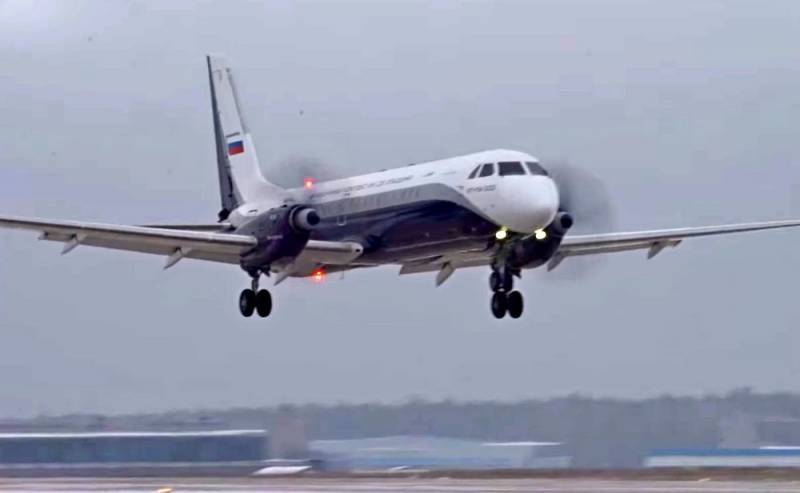 The newest IL-114-300 passenger liner made its maiden flight at the airfield in Zhukovsky. Earlier, the aircraft, in preparation for flight tests, carried out several high-speed runs along the runway, raising the front landing gear.
The Il-114-300 is a modernized version of the Il-144, the aircraft will be used for regional transportation. The liner is capable of taking on board 68 passengers, the flight range of the aircraft is 1 km. It is equipped with Il-900-114 turboprop engines of Russian production TV300-7ST-117.
The new passenger airliner can be used at airfields with short and unpaved runways and weak
technical
infrastructure, as well as on ice strips in the Arctic regions. On board the Il-114-300, a flight and navigation system was installed, which ensures the operation of the aircraft in meteorological conditions of the II category of ICAO. All data during the flight are displayed on five color liquid crystal displays.
Such a machine is really needed - we have no alternatives to passenger short-haul ships with the ability to land on, let's say, not well equipped airfields
- said the deputy editor-in-chief of the magazine "Arsenal of the Fatherland", an expert in aviation Dmitry Drozdenko in an interview with radio "Sputnik".
According to the head of the Russian Ministry of Industry and Trade, Denis Manturov, the development and production of the Il-114-300 cost the Russian budget 25 billion rubles. According to the program adopted earlier, it is planned to produce up to 2030 airliners by 100, which will be sent to the needs of Russian civil aviation, as well as to state customers and for sale abroad.