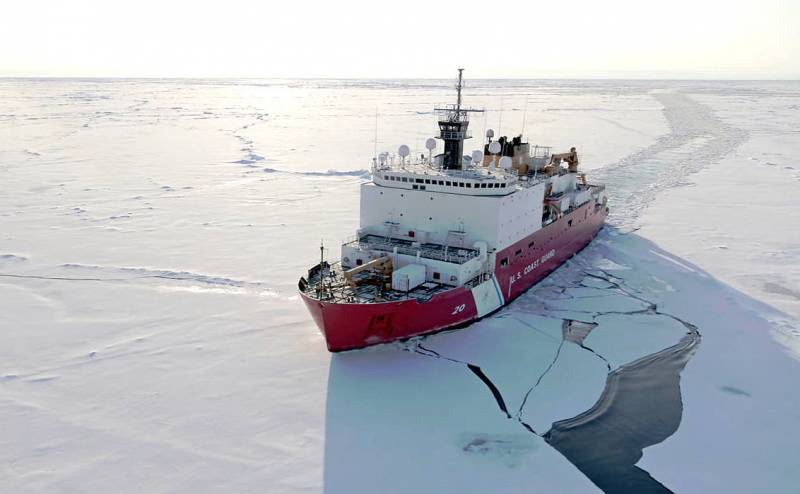 The USA pointed to the lagging behind the Russian Federation in icebreakers and called for the elimination of this phenomenon. That is the message in a new Anchorage Daily News article by former Coast Guard officer Barclay Lloyd.
The author notes that after decades of delays in replacing obsolete icebreakers at the federal authorities, finally, a positive shift is outlined. It is expressed, among other things, in the form of a contract for the construction of the first new icebreaker for the needs of the US Coast Guard.
Now, however, with two of the three American icebreakers out of service and the third facing restrictions, Senator Dan Sullivan is pushing for icebreaker leases to bridge the gap.
The idea is correct, the military expert notes, since both American and foreign icebreakers are available for rent, which were built thanks to the foresight of other Arctic countries.
While leased vessels may be an adequate replacement in some respects, they will lack the full range of essential capabilities found in purpose-built US Coast Guard icebreakers. The very ships, the commissioning of which will have to wait for a very long time.
Among other things, renting this kind will be much more expensive than using your own boats.
The United States lags shamefully behind Russia and China, as well as other Arctic nations, in the ability to conduct national security missions and vital scientific research on climate change where it is most visible

- notes the author.
Senator Sullivan, according to the publication, also put forward the idea of ​​locating a rented foreign icebreaker in Alaska, and preferably in the port of Dutch Harbor or Kodiak, rather than Seattle, where the current Coast Guard icebreaker fleet is now based.
From a geographical point of view, as well as from the point of view of the popularity of this idea among the voters of Alaska, this, of course, is preferable. However, after a cost estimate, the initiative is doomed to failure for several reasons, Lloyd said. Its practical implementation will only lead to dissatisfaction and an outflow of valuable personnel.
It should be noted that in recent years the American press has been writing quite a lot about Russian successes in the development of the Arctic and the Northern Sea Route, urging Washington not to be passive in this region. Nevertheless, even the long-term and unfulfilled plans of the United States, by all accounts, are still far from the opportunities that Russia already has at the moment.