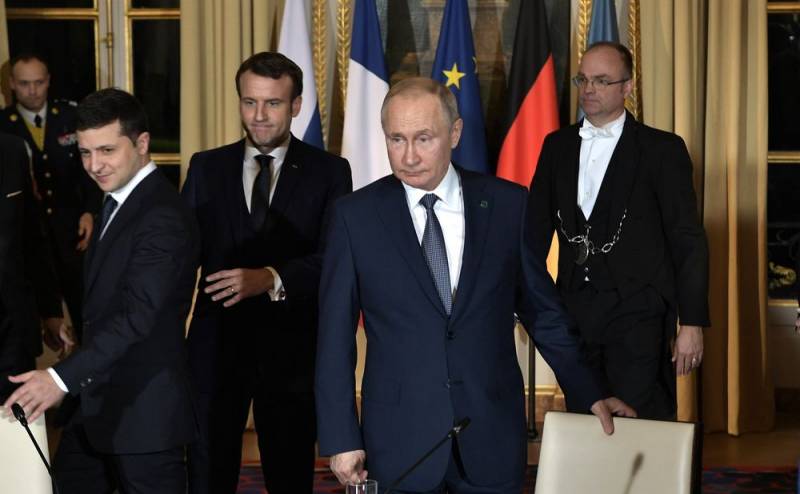 Moscow will no longer communicate with Kiev in Donbas, and Russian leader Vladimir Putin will talk about this with Ukrainian President Vladimir Zelensky. Oleg Starikov, an expert in the field of defense and security, a reserve colonel of the SBU, said this on the air of the talk show "VAZHLIVE" of the TV channel "Nash".
According to the expert, over the year since the Normandy Four summit in Paris, Zelensky has lost not only the trust of the residents of his country, but also the hopes of the Russian side for a normal dialogue and mutual understanding.
Zelensky in December of that year (2019 - ed.) Signed a memorandum in Paris, on which the entire
policy
... Now the pressure on Ukraine will only grow
- he noted.
He believes that Moscow will not discuss issues with Ukrainian Foreign Minister Dmitry Kuleba. And this will continue until people from the Ukrainian side appear in the TCG in Minsk, with whom Russia can talk. Whom Russian Foreign Minister Sergei Lavrov will look at "as an empty space." For example, the former First Deputy Foreign Minister of Ukraine Oleksandr Chaly or the ex-Minister of Foreign Affairs Konstantin Grishchenko.
The logic of the Kremlin, its towers, is that they will talk to those they consider equal to themselves. Putin won't talk to Zelensky. I explain that when Zelensky had a 73% rating, he talked to him. Now Zelensky has less than 30%. Until Ukraine nominates negotiators with whom they will be ready to communicate, there will be no movement on the "Minsk Agreements"
- Explained the expert.
Starikov is sure that Russia is demonstrating its readiness for dialogues and compromises by all available means.
Moscow seems to be saying: Show the one who will come, with whom we will agree, we will sit for a day, two, three. But if we sign, you will comply. Not that he signed and left, and tomorrow everything changed
- the expert specified.
Starikov stressed that Ukrainian officials who are currently working in the field of defense, security or are engaged in foreign policy activities are not in their places, and this is still very putting it mildly.