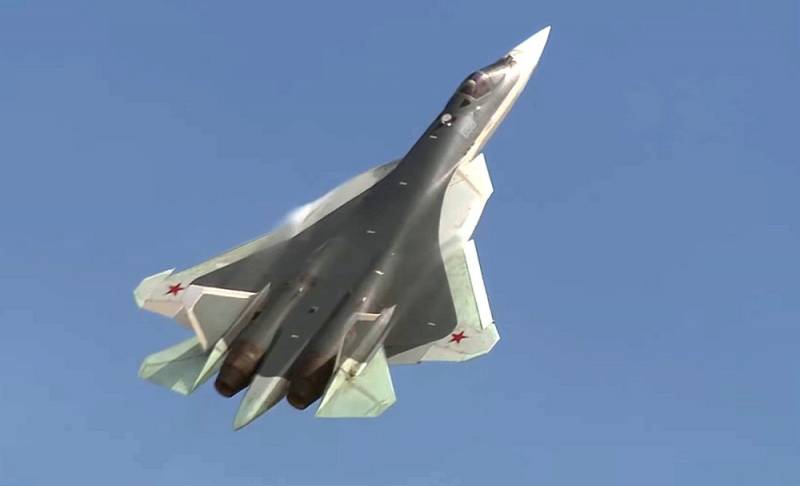 The Russians are working on a new generation single-engine fighter that will compete with the F-35, writes the American Military Watch.
A new class of aircraft is being developed. They will complement the heavy Su-57 and the future high-altitude interceptor MiG-41. In fact, it will be "Su-57 at minimum wages", i.e. option in the "light version". It will have one "Product 30" aircraft engine - a fifth or even sixth generation power unit. The Russians claim that it will be significantly more powerful than the American F135, installed on the "invisible" F-35. "Product 30" is just one of the developments designed to accelerate the transition of the Su-57 to the level of sixth generation aviation.
The new aircraft is likely to be the first single-engine fighter produced by Russia after the USSR stopped producing the third generation MiG-21BiS, MiG-23 and MiG-27 aircraft in the 1980s. If it is confirmed that the Su-57 and its new lightweight counterpart will use the Product 30, this will allow for large-scale and more profitable production of these aircraft engines. Using sensors of the same type,
of technologies
and systems on two aircraft will also help reduce development costs and reduce the cost of final products.
The Su-57 can carry 10 air-to-air missiles in its internal compartments, and its future lightweight counterpart is likely to be limited to six or fewer missiles. But the single-engine fighter will replace obsolete heavy aircraft such as the Su-27 and Su-30. It will have much lower operating costs and maintenance requirements. At the same time, it will significantly surpass them in many of its capabilities.
The head of Rostec, Sergey Chemezov, said that such an aircraft has significant export potential. He confirmed the development of the new fighter, specifying that "the company is working on the concept and operational requirements for such a platform on its own initiative, without the involvement of federal funds."
Russia will be able to get a single-engine fighter. It will become the world's first sixth generation aircraft of its kind. Perhaps in cheaper export options, its category will be downgraded to the fifth generation. If Rostec invests its own money, then it clearly sees the future and is confident in success. All countries that operate MiG and Sukhoi products can be safely listed among potential customers.