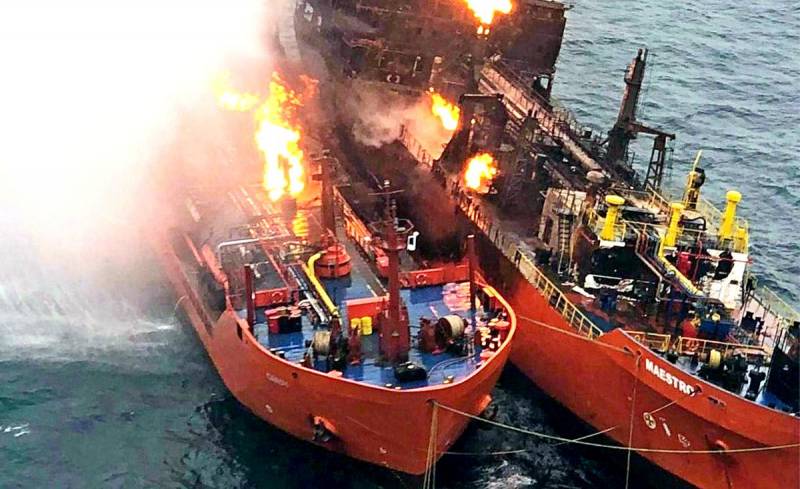 On the morning of Monday, December 14, an explosion occurred on a tanker parked at the Saudi port in the city of Jeddah. According to the shipping company BW Rhine, the incident was caused by an "external source" strike. None of the 22 sailors on board the stationary vessel were injured. According to the company, an oil leak is possible at the site of the explosion.
The Saudi Arabian authorities did not immediately recognize the fact of the incident. The explosion partially destroyed the port's infrastructure, including a distribution center for oil trade. In connection with the incident, the organization of the British Royal Navy, the United Kingdom Marine Trade Operation, has urged ships in the region to exercise increased caution.
The command of the 5th Operational Fleet of the United States Navy, whose zone of observation includes the Middle East region, has also refrained from commenting on the attack on the Saudi vessel.
Some associate the explosion of a Saudi tanker in the Red Sea with the activities of Tehran, which is supporting the rebel groups of the Shiite movement Ansar Allah. In the southern part of the sea, off the Yemeni coast, not far from the bottleneck formed by the Bab-el-Mandeb Strait, the Iranian ship Saviz has been motionless for about three years. According to the US portal USNI News, the ship is considered a "secret forward base" of the IRGC and is used by Iran's elite combat units.
Saviz's presence in the region has no legitimate civilian explanation, and men in military uniforms have been seen aboard.
- notes USNI News.
The convenient position allows Saviz to monitor vessels in the region. According to the newspaper, tankers are often attacked here.