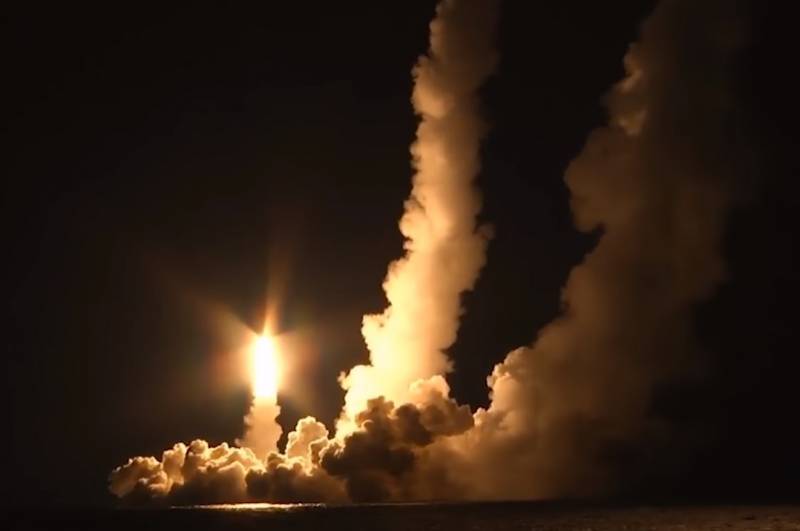 On December 12, 2020, the Russian Ministry of Defense reported that the K-551 Vladimir Monomakh SSBN of the Pacific Fleet of the Russian Navy for the first time fired a salvo of four R-30 Bulava-30 solid-propellant SLBMs from the Sea of ​​Okhotsk. The military department clarified that the launches were carried out from a submerged position, the missiles were flown normally and they all reached the Chizha training ground in the Arkhangelsk region.
According to the confirmed data of objective control, the missile warheads successfully arrived in the specified area of ​​the Chizha battlefield
- emphasized in the Ministry of Defense of the Russian Federation, adding that it was 35-38 launches of "Bulava".
Vladimir Monomakh (Project 955 Borey) is a 4th generation nuclear submarine. It is armed with 16 SLBMs. It is part of the 25th DPL of the Pacific Fleet, based in Vilyuchinsk.
Before that, he conducted a salvo launch on November 14, 2015. Then, being submerged, he launched a couple of strategic missiles from the waters of the White Sea at the Kura training ground in Kamchatka. These launches (24-25) were also considered successful. This speaks of the high professional qualities of the submarine's crew.
The first test launch of Bulava from this nuclear submarine (21st on the list) was carried out on September 10, 2014. It was produced from the White Sea at the Kura test site in Kamchatka. The members of the state commission were satisfied with the results, and on December 19, 2014, the St. Andrew's flag was raised on the Vladimir Monomakh.