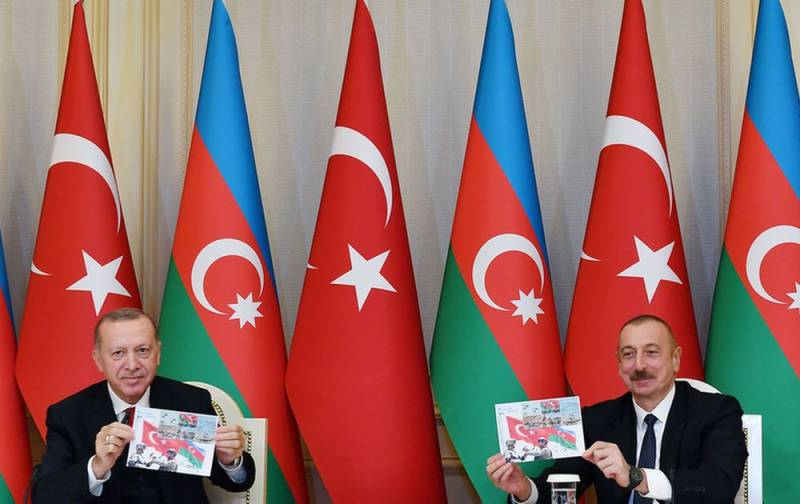 On December 10, 2020, a military parade was held in Baku dedicated to the victory of Azerbaijan in Nagorno-Karabakh. The ceremony was attended by Turkish President Recep Tayyip Erdogan. He congratulated the Turkish and Azerbaijani military on the victory over the Armenians, whom he called the occupiers, writes the Greek edition Pentapostagma.
The return of the occupied territories does not mean that the battle is over. We will now continue on many other fronts like
political
and the military. Karabakh belongs to Azerbaijan, it was reunited with its homeland after 30 years of separation
- said Erdogan.
A month ago, Armenia admitted defeat by accepting the terms of the tripartite agreement. However, for Ankara, the outcome is still far from obvious. Therefore, Moscow is irritated by Erdogan's statements about the continuation of the war with Yerevan. Russia's reaction followed through the spokesman for the Foreign Ministry, Maria Zakharova, who commented on his words.
She stated that the war took the lives of a large number of people and it took a huge effort to bring about a settlement. Therefore, no political declaration should nullify the achieved result.
All efforts were focused on bringing the situation in the region back to a peaceful course, ending hostilities and bringing both sides to the negotiating table in order to begin complex procedures for the return of refugees, rebuild infrastructure, and create conditions for the normalization of life. This work is extremely difficult, and we proceed from the recognition that political statements should facilitate these processes.
- noted Zakharova.
The Russians fear that the Turks will change course because of Joe Biden's victory in the United States and possibly bring Americans to the region. After this, the crisis in the Caucasus can take on a large scale, spreading to the Black, Aegean and Mediterranean seas, summed up the publication from Greece.