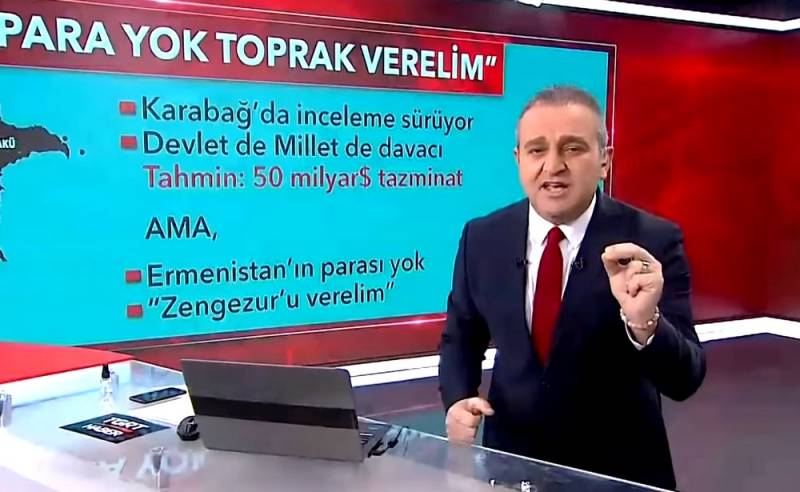 A month has passed since the end of the Nagorno-Karabakh confrontation, but territorial and monetary claims to Armenia, which lost this war, remained. Thus, the Armenians are offered to give Zangezur as payment of their "debt" to Baku. The presenter Ekrem Achikel spoke about this on the air of the Turkish television channel ΤGRT Haber.
The compensation is estimated at 50 billion. But! Armenia has no money. I say: Zangezur
- the corresponding inscription on the screen was behind the host's back while he was describing the essence of Azerbaijan's territorial claims to Armenia.
Zangezur is a very important territory for Armenians, where the Tatev monastery and other historical monuments are located. The Kajaran copper-molybdenum deposit is also located here - one of the largest deposits of molybdenum in the world. Achikel stressed that if Zangezur passes under the authority of Baku, the Nakhichevan Autonomous Republic will no longer be an enclave, and Azerbaijan will close all territorial issues to the NKR.
The interim acting president also spoke about the need for Armenia to transfer lands to Azerbaijan instead of monetary compensation. Elchin Akhundzade, the authorized representative of Azerbaijan in the International Committee for the Protection of Human Rights (CIPDH).
We know that Armenia does not have that kind of money ... Armenia can, for example, pay off with Zangezur
- said Akhundzade in an interview with the Azerbaijani resource Okhi at the end of November.