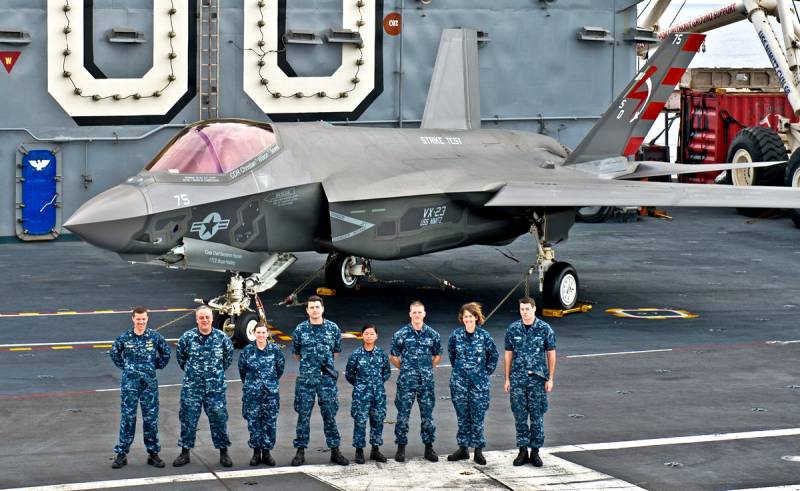 During the operation of F-35 fighters, it turned out that they are not compatible with most American aircraft carriers. This is mainly due to the lack of the necessary communication facilities on the ships and the appropriate level of maintenance for the use of these aircraft. The specialized edition of Navy Matters writes about this strange problem of the American Navy.
So, the F-35 in the deck version (F-35C) is poorly compatible with the first US nuclear-powered aircraft carrier of the Gerald F. Ford class. Without the necessary data processing capabilities, the aircraft is not able to transmit the necessary information to the combat control system and the ship simply cannot use it. Fortunately, the Gerald F. Ford is the only aircraft carrier to have the crane equipment for delivering F-35 engines to the deck, while other ships are unable to do so. It got to the point that they had to use the MV-22 tiltrotor to replace the fighter's engine.
Helicopter carriers are also not capable of proper compatibility with the F-35, since during the short takeoff of a fighter, the decks of ships are heated by its exhaust gases and become unusable.
Of the 11 American aircraft carriers and 33 landing craft, only 4 ships can adequately interact with the F-35B.
The necessary improvements and modifications to such warships to be properly compatible with the F-35 will require a lot of painstaking work and millions of dollars, which should be added to the already high cost of building and operating multi-role fighters.
If the war started today, America would have only four amphibious assault ships ready to use the F-35.
- the author of the article notes with regret.
Thus, the F-35 proved to be too complex a flying combat vehicle to be adequately suited to the desired level of cooperation with aircraft carriers, and this problem turned out to be much more frustrating than previously thought.
In pursuit of large, super-expensive toys, we ignore such prosaic things as interoperability and the infrastructure necessary for the full operation of these same toys.
- states Navy Matters.
When the F-35Cs enter service with the US Navy, the number of their squadrons will decrease from 12 to 10. That is, the already insufficient fleet of fighters will be reduced even more.