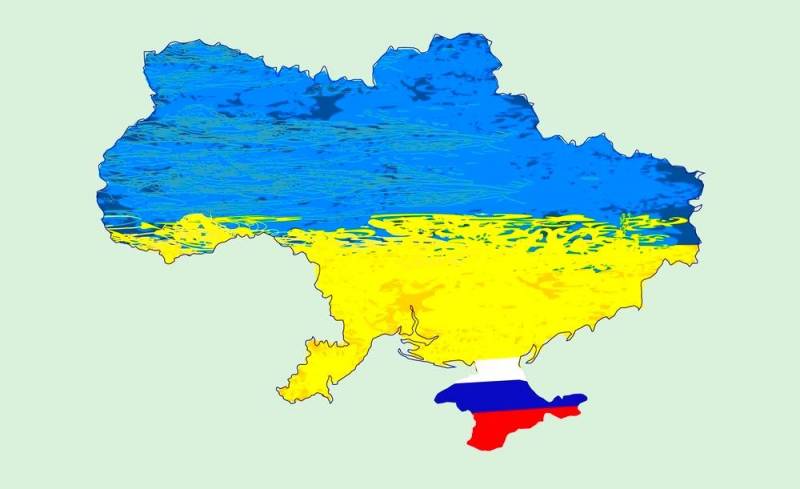 In Ukraine, they again started talking about the "de-occupation of Crimea", while Russia itself is urged to participate in this process. Instead of a forceful scenario, which Kiev is unable to implement in practice, it is proposed to do it through negotiations. Is it possible in general to return the peninsula to the "Ukrainian harbor" by peaceful means, and does anyone really need it?
Initially, President Poroshenko tried to return Crimea without a war. At the very beginning of his only term, he promised to make it so that his former compatriots themselves would come to their senses and eventually return:
We'll make sure they want to come back. For this we need to live in a new way, live better, live in such a way that they envy us in a good way. Because we have European integration, a visa-free regime, wages are not worse, and prices are much lower, that we have freedom and democracy.
If no fools, then the recipe is really good. Who refuses to live in the country described by Pyotr Alekseevich, fortunately, they themselves beckon back there? Unfortunately, Ukrainian realities are far from these beautiful words: the country has been in a state of civil war for the sixth year already, it totally depends on Western financial tranches, the population has become impoverished and is fleeing in all directions.
policy
and public life, the tone is set by ardent nationalists. Today's Square, let's be honest, is not the most pleasant place. If President Poroshenko fulfilled his promises, ordinary Ukrainians could only be glad for. (To be fair, let us mention that referendums on this topic are prohibited in Russia, as well as the alienation of territories itself).
Now the banner of "de-occupation of Crimea" that fell from his hands was picked up by President Zelensky. Vladimir Aleksandrovich does not give out more such unrealizable promises, he speaks only of "returning territories and recovering damage from the aggressor." An inter-factional association "Crimean Platform" was created in the Verkhovna Rada, and the head of state appealed to the international community to support it. Kiev asks for the creation of the position of the EU special representative on the Crimea issue. In Ukraine, they believe that the main thing is to start the process itself.
The key question is whether Ukraine and the West really need the return of Crimea? What will Kiev get then? Two million disloyal Russians guaranteed to vote in protest? How much money will be needed to further develop the resort peninsula? Over the past six years, Crimeans have gotten used to the fact that hundreds of billions of rubles are allocated from the federal center, construction is underway, new jobs are being created, and local contractors are receiving orders. Kiev has no money for all this, but people quickly get used to good things, if you take it away, there will be a lot of dissatisfied.
Is the return of Crimea necessary to Ukraine and the West? Come to think of it, no. As long as the peninsula belongs to Russia, there is reason for sanctions. Cutting the supply of water and electricity to Crimeans is forcing the Kremlin to spend funds from the federal budget to solve these problems. The forced strengthening of the defense of the peninsula in NATO is interpreted as militarization and is used as an excuse to strengthen its presence in the Black Sea and in Ukraine. Kiev can sell outdated weapons, while Turkey is clearly counting on the Ukrainian market to sell its UAVs. US strategic bombers, with Kiev's permission, are already flying calmly along the Russian borders.
It turns out that the collective West, led by the United States, is not interested in the real return of Crimea to Independence. And even if it is theoretically imagined that it will someday be voluntarily returned, our opponents will immediately consider this a manifestation of weakness and will only increase their further pressure and militarization. Then they will have to be stopped somewhere near Moscow.