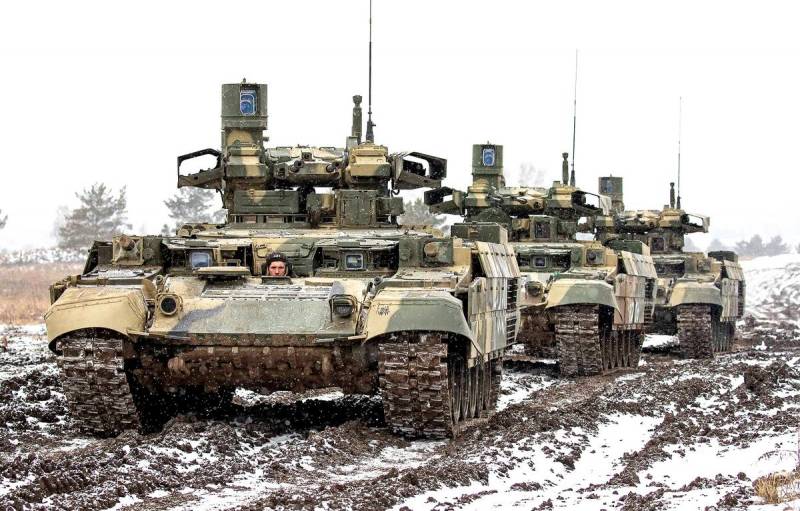 The Russian army has received the first 8 units of BMPT "Terminator" for army tests - according to Defense News, military
technique
entered the 90th tank division stationed in Chelyabinsk. Why does Russia need a unique tank support combat vehicle (nothing like this in the troops of NATO countries), says Popular Mechanics.
The chassis of the T-90 tank was used as the basis of the BMPT; in place of the tower there are various weapons systems. The Terminator is equipped with two 30-mm 2A42 automatic cannons, two AGD-12 automatic grenade launchers, four 9M120-1 "Attack" missiles for destroying tanks, some models also have a 7,62-mm remote-controlled machine gun. Covered with powerful armor, the crew of the combat vehicle consists of 5 people.
The main purpose of the BMPT is to search, find and destroy enemy anti-tank weapons during a battle. The Terminator was designed in the late 80s, but it was remembered after the Chechen war of 1994-1995, during which militants in the city destroyed many tanks of the Russian Armed Forces, unable to protect themselves from attacks from terrorists shooting from above - Russian and Soviet tanks had a low landing, which made it almost impossible to move the gun barrel vertically. The armament of the new BMPT is capable of effectively attacking the positions of enemies entrenched on a hill. The bitter experience of the war in Chechnya forced Russia to return to the need to create the Terminator.
NATO troops rely heavily on anti-tank infantry, and a vehicle like the Terminator could in principle be useful in the future.
- notes the American edition.