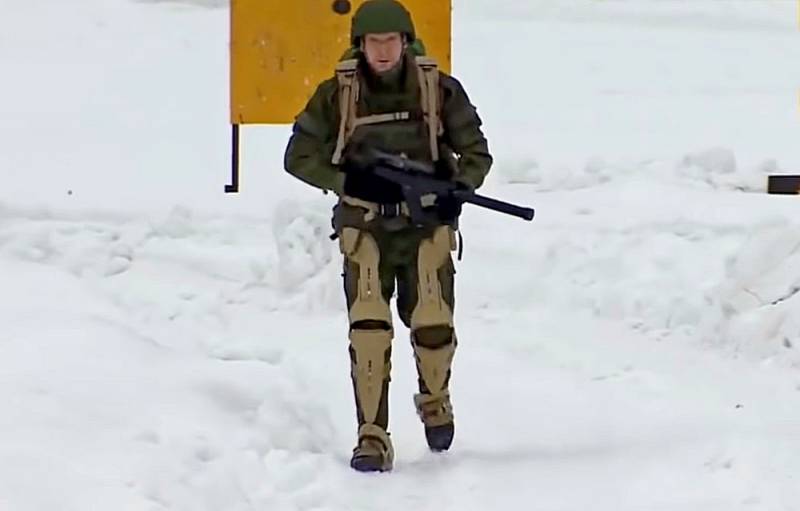 Despite the fact that this year Russian troops received 18 sets of the new Ratnik combat equipment, work is already underway on the next generation of equipment, which focuses on the exoskeleton.
What will be the equipment of the Russian soldier of the future, and how do our solutions differ from the American ones? Let's figure it out.
To date, the Pentagon has as many as three operational prototype robotic exoskeletons.
The most practical of them is the HULC, which is a titanium frame with active hydraulic boosters and control via an on-board computer and a system of tactile sensors. Such equipment allows you to carry a load of 90 kg practically without restricting walking. But its battery capacity is only enough for 24 hours.
Another project called XOS-2, thanks to advanced hydraulic drives and sophisticated electronics, allows lifting up to 200 kg. But he himself weighs 92 kg and requires external power.
Finally, the third option is the TALOS project, in which more than $ 300 million has already been invested. However, today there is only its exhibition concept.
Russia, unlike the United States, has focused on passive designs that do not require external or wearable power supplies.
Our project, called EO-1, allows the soldier to maintain full mobility and at the same time work with weights up to 50 kg. Domestic exoskeleton, developed by specialists from the Institute of Engineering Troops named after Karbyshev, is already completing preliminary tests, including in combat conditions in Syria.
At the same time, due to the absence of the need for power supply, our equipment is able to function indefinitely. Therefore, today it is the most advanced in the world for real use.