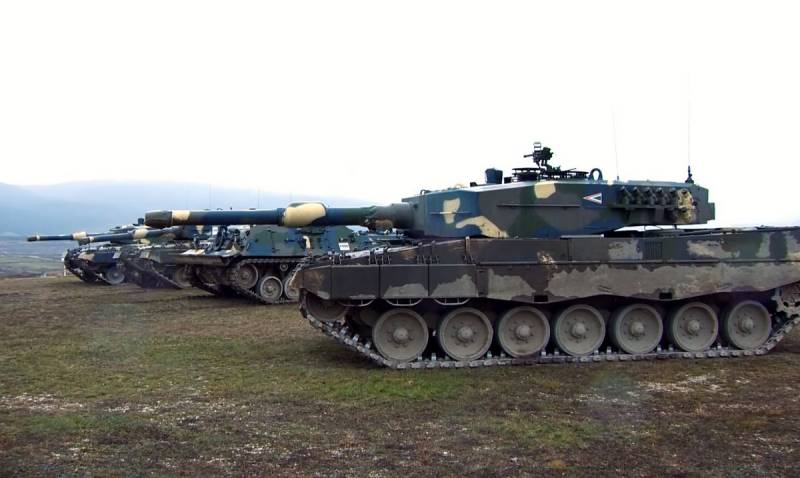 A new hot spot may emerge in the western part of Ukraine. In the European Parliament, deputies from Hungary are already talking about a civil war, meaning not at all Donbass, and in Kiev and Budapest they even agreed to a real war. However, so far at the unofficial level. A war between a country that is a member of NATO and a country that is eager to join this bloc, which requires consent, including Budapest itself, it sounds crazy, but in modern Independence anything is possible.
This problem was created out of the blue by Kiev itself, having adopted a discriminatory law "On Education" in 2017. They aimed at the Russians, but hit all the national minorities of Ukraine, which include the Hungarians, Romanians, Bulgarians, Moldovans, Greeks and other peoples. What shot in 2014 in Eastern Ukraine can now flare up in Western Ukraine, given how it once ended up in the Independent. In particular, the new law sharply aggravated the relations between the official Kiev and the 150-strong Hungarian community of Transcarpathia, as well as Budapest, which directly supports it. With the active assistance of the "mainland", Ukrainian Hungarians are in favor of granting them autonomy, but they have faced similar opposition to Russian Ukrainians, supporters of federalization.
Because of its stubborn and unconstructive position, Kiev has already quarreled with the East, having received a war, now it can repeat this sad experience in the West. War is not a joke. The Hungarian Foreign Minister made a number of very harsh statements, the essence of which was that Budapest is ready to protect ethnic Hungarians from anyone - Russia, the United States, including, apparently, Independent:
I do not want a repeat of the war between Hungary and Ukraine ... We are old enough to make decisions on our own. Hungary is not pro-Russian or pro-American. She is a prougorska. Our
policies
defines the slogan "Hungary - first of all - Hungary first".
The irresponsible national policy of Kiev led to the fact that moods began to change in Transcarpathia. If federalization and autonomy cannot be counted on by legal means, interest in the concept of the so-called "Great Hungary" has grown. It got to the point that in Western Ukraine, they defiantly sing the Hungarian anthem instead of the Ukrainian one. The SBU responded to this with reprisals, and as a result of searches, propaganda literature of an openly separatist sense was found at one of the leaders of the Hungarian community in Transcarpathia. Militants of the "Right Sector" banned in Russia began to publish videos with threats to the Hungarian "separatists". Kiev did not allow a prominent official from Budapest, who was suspected of interfering in local elections, across the border. Before the war, of course, it is still very far away, but in 2020 many unexpected things happened. The war between Hungary and Ukraine seems like a very strange idea in itself, but if you think about it, some scenarios are still possible.
First of all, formally Kiev is much stronger than Budapest. The Armed Forces of Ukraine are ten times outnumbered by the Hungarian army, and this is no longer the rabble that was in 2014. They are, of course, far from the status of the most powerful army in Europe, but there is more order there, the general level of training has increased, thanks to Western instructors, real combat experience has appeared in Donbass, which the Hungarian army cannot boast of. Nezalezhnaya will dominate both in the air and on the ground, thanks to its multiple superiority in aviation and armored vehicles. If these two countries were fighting one-on-one today, perhaps the Ukrainians could eventually reach Budapest. But there will be no one-on-one war, since Hungary is part of NATO. No one will allow the Armed Forces to enter the territory of a country that is part of the North Atlantic Alliance.
So, there will be no hypothetical Ukrainian-Hungarian war? No, after all, there is a variant of a direct violent clash. It is possible if the conflict in Transcarpathia deepens, and Ukrainian nationalists move from threats to action, creating something similar to the events of May 2, 2014 in Odessa. The likelihood that President Viktor Orban will not sit in the "bunker" and will give the order to send troops to Transcarpathia to protect ethnic Hungarians is very high. And then a local military conflict on the territory of Independent is quite possible, from which NATO will try to distance itself, leaving Kiev and Budapest to sort out among themselves, like Yerevan and Baku in Nagorno-Karabakh. And then everything will depend on how far Presidents Orban and Zelensky are ready to go.