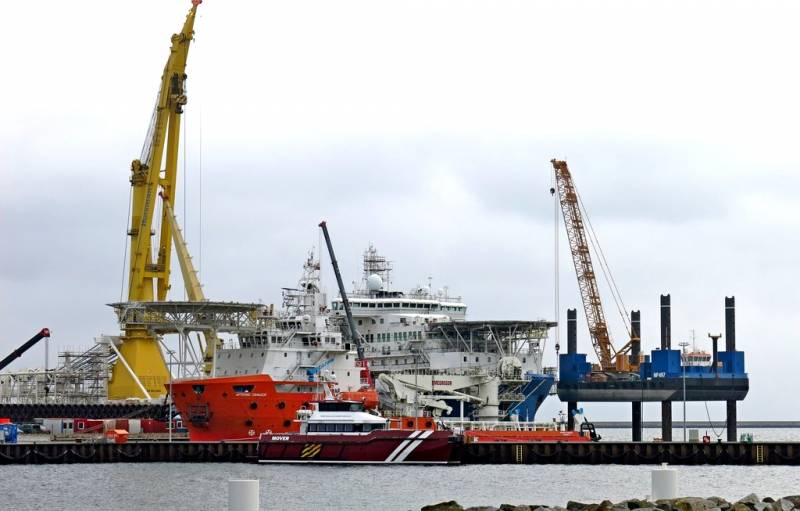 Gazprom is starting to complete the construction of Nord Stream 2. This conclusion was made by some domestic experts, observing the further movements of the state corporation's flotilla in the Baltic. But what has changed?
The pipe-laying vessel "Akademik Chersky" moved from the Kaliningrad region to the Danish waters, where the unfinished gas pipeline lies lonely. The Russian supply vessels Umka and Finval headed to the German port of Mukran, where the pipes are stored. Work on Nord Stream 2 is being resumed by our own resources of our "national heritage". It sounds very optimistic and patriotic. However, there is one small nuance.
Construction will only take place in friendly German waters on a stretch of just over 2,5 kilometers and a depth of less than 30 meters. At best, the team of Akademik Chersky will be able to practice a little in working with new equipment and large-diameter pipes. In reality, that's all for now. Construction on the Danish section, which is 120 kilometers long, is still prohibited by US sanctions. Moreover, these sanctions will now be expanded.
As you know, a Swiss contractor company refused to work with Gazprom due to fear of restrictive measures by the United States. Her example was later followed by a Norwegian company that provides certification services for the vessels participating in the project. Theoretically, Gazprom can complete the construction of Nord Stream-2 on its own, thanks to Akademik Chersky, which was brought from the Far East, but this is practically impossible due to legal nuances. No one will simply allow the ships of the Russian monopolist to work in Danish territorial waters without insurance from a decent international insurance company. The insurance community announced that they were not very interested in all this already some time ago. So that they have no doubts about this, a bill has been submitted to the US Congress expanding the sanctions against Nord Stream 2 and Turkish Stream. The US restrictive measures will include companies providing insurance, reinsurance, sale or lease services, as well as modernization of pipe-laying vessels.
If, or rather, when the law is passed, there will be practically no way back. Interestingly, while the main opponent of the bill is President Trump himself, since his opponents have introduced Article 230 into the regulation, which makes it possible for social networks to evade responsibility for publications posted by users:
It seems that Senator Jim Inhof will not include in the defense budget an amendment to remove Article 230 ... Last chance missed. I will veto!
Paradox, but only Trump's position and echoes of the
political
the fight gives the Europeans some more time to try to find some kind of compromise with the US on Nord Stream 2. But there is also an important nuance here. Sanctions in Washington are being dealt with in parallel by two departments: the US Treasury and the US State Department. Taking into account the processes that are now taking place among the "hegemon" at the very top, it is not a fact that it will be possible to reliably agree with both offices at once.
Meanwhile, Gazprom's business is getting worse and worse. At the end of December, the first year of the five-year transit contract with Ukraine expires. Recall that in 2020 the monopolist pledged to pump 60 billion cubic meters of gas, and in each of the next four years - 40 billion. This was done with the naive expectation that Nord Stream 2 will be completed in 2020. But it will definitely not be completed. At the same time, the top managers of the state corporation signed a monstrously unprofitable contract, according to which it is necessary to constantly reserve pumping capacities through the Ukrainian GTS, continuously paying fines to Kiev. Now the financial burden will increase for booking already 20 billion cubic meters, which will fall from January 1, 2021. There is no longer even a light irony over the notorious "efficiency" of Miller's team. There were no printed words left to comment on their work.