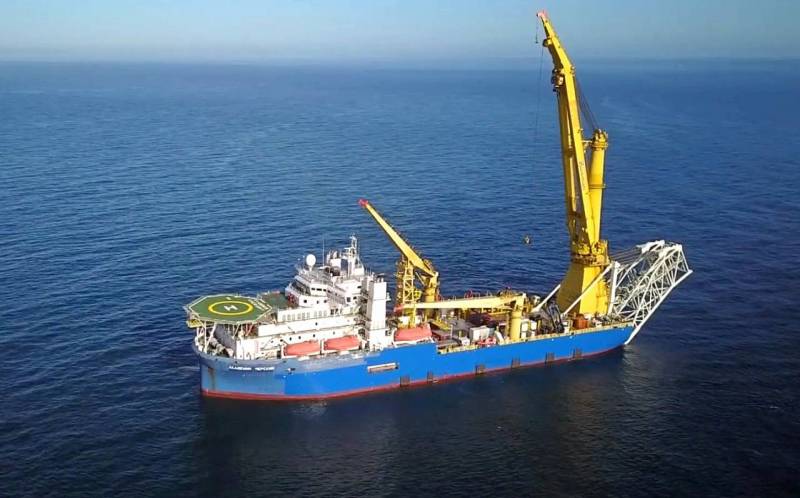 The Russian pipe-laying vessel Akademik Chersky leaves the Curonian Spit and moves towards Germany to complete the construction of the Nord Stream 2 gas pipeline. Earlier, two accompanying supply vessels Finval and Umka set off for the German shores, three more ships await the Chersky at the work site. The German regulator BSH has given permission to start construction of a part of the SP-2 gas pipeline in the shallow water section from 5 December.
The German Federal Office for Shipping and Hydrography has approved the installation of 2,6 km of pipelines to the south of Adlergrund from Saturday 5 December, Nord Stream 2 AG reported. The ships Vladislav Strizhov, Baltic Researcher and Katun are already at the base port of the Mukrane project awaiting the Akademik Chersky and accompanying ships.
On November 28, the Swiss company Nord Stream 2 AG announced plans to resume construction of the Nord Stream 2 pipeline under the Baltic Sea in the exclusive
economic
zone of the Federal Republic of Germany with the participation of a vessel equipped with anchor positioning. It was reported that such equipment was on board the pipe-laying ship Fortuna, and the Akademik Chersky was also considered as a use case.
We assume that Nord Stream 2 plans to use the vessel "Akademik Chersky"
- Bloomberg notes with reference to the official representative of the Maritime and Hydrographic Agency of Germany.