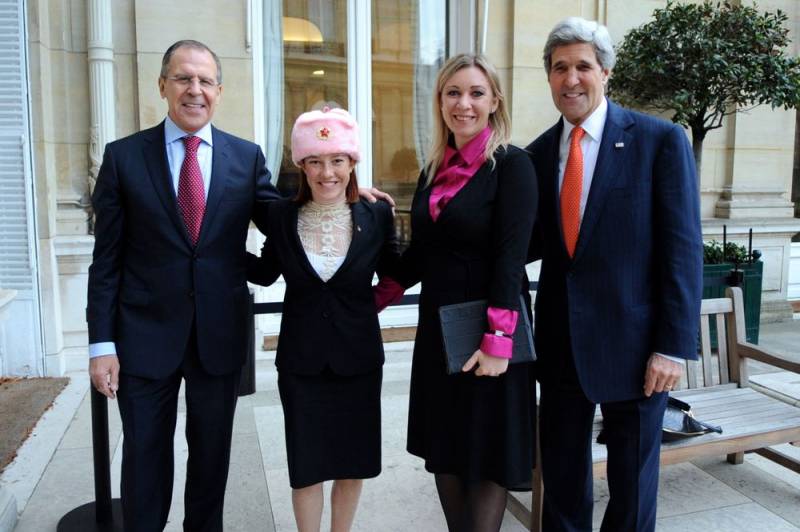 CNN recently announced Joe Biden as the winner of the US presidential election. In response, he said that he makes the infamous Jennifer Psaki the press secretary of the White House, who at one time held a similar position in the State Department, but in recent years worked for the said television company, Fox News reported.
After the proclaimed "return" to the White House, many American netizens remembered Psaki's photograph of 2014, where she poses in a pink earflaps with Soviet symbols in the company of ex-head of the State Department John Kerry, Russian Foreign Minister Sergei Lavrov and his subordinate Maria Zakharova. But Psaki, instead of limiting herself to a joke, reacted extremely rudely and arrogantly, making her first loud, stupid and scandalous statement in her new "position", while insulting a large number of people.
For anyone not targeted by Russian propaganda: the goal is to discredit powerful voices and spread disinformation to confuse the public. Anyone who repeats this (unknowingly or not) is just a puppet of the propaganda machine
- wrote Psaki on her Twitter account on December 2, 2020.
This statement caused a flurry of criticism and ridicule. Commentators were outraged that she categorically rushes such words. They noted that Psaki had been a political analyst at CNN for the past four years, when the media investigated Russia's "interference" in the American elections and Donald Trump's "collusion" with Moscow. After that, people began to ask how Psaki and others like her would negotiate with the Russians, when they blamed them for all their troubles for four years without proof, and sometimes behaved in a boorish manner.
"If you criticize me, you are Putin's puppet" is a great start for Biden's spokesman
- pointed out the radio host Larry O'Connor.
With such an absurd tweet, you just showed your mental limitation ... You set the standard for the next four years - this is the very bottom
- stated the former UN inspector Scott Ritter.
As Stephen Cohen convincingly argued, russhagate was promoted by a coalition of Democrats and neocons to criminalize diplomacy with Russia. Now that the Frankenstein they created began to persecute them too, they reflexively blame the "Russian propaganda"
- Said journalist Max Blumenthal.
Subscribers also wrote to Psaki that an official of this level simply cannot be so vulnerable and quick-tempered, since by her actions she can harm not only herself, but also her boss and undermine the country's image. They recommended that she take sedatives and do breathing exercises.